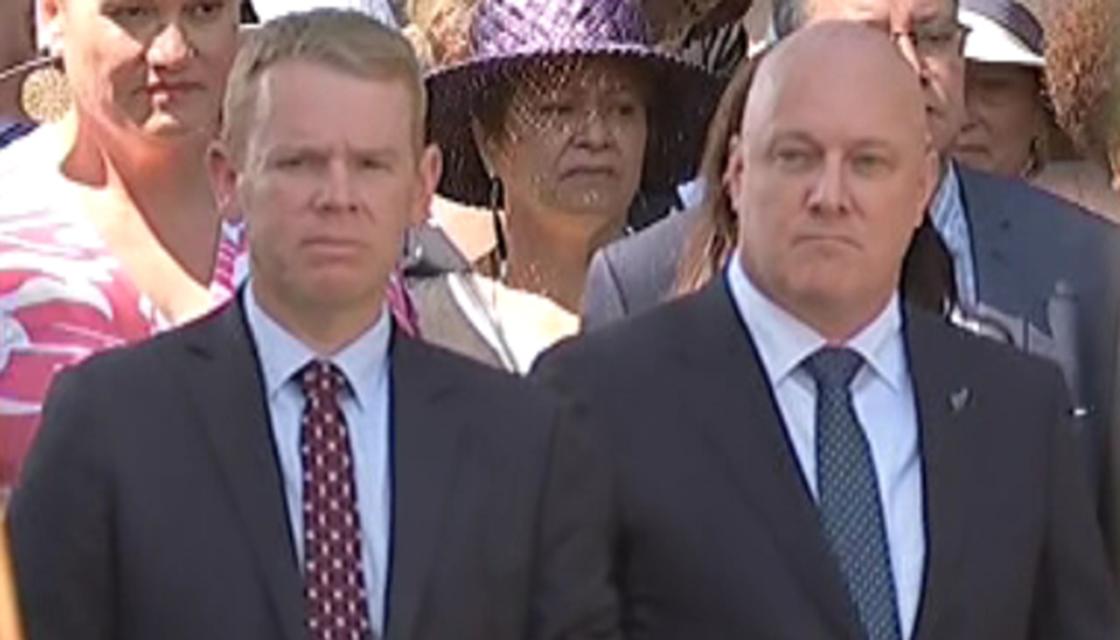 Political leaders were welcomed at Waitangi on Sunday in what was supposed to be a peaceful politics-free procession.
But it wasn't without controversy, with National's Christopher Luxon under fire for referring to the Treaty as a "little experiment".
While many of the leaders gave te reo Māori their best shot on the marae, the major parties aren't willing to enter a debate on whether our native language should form part of our official name.
With a wero and a welcome, the politicians took to the Waitangi Treaty Grounds together for a parliamentarian pōwhiri.
After an impromptu setting of the speaking order, they took turns to talk about te Tiriti.
The Prime Minister acknowledged the wrongs. 
"There has been too much misunderstanding, too much mistrust, and far too many broken promises," Chris Hipkins said.
National's leader defined our founding document, the foundation of our nation, as a "little experiment".
"We started on February 6, 1840 as a little experiment, and look at us now, a 21st-century success story able to tackle the challenges that come our way."
Asked later to elaborate, Luxon said New Zealand was an "experiment".
"We start off with great ambition and we go on a journey together over the 183 years, and we've built a country that we should be incredibly proud of," he said. 
The Prime Minister said he would describe it as a "bold and visionary decision". 
"It was a decision to try, in effect, living together without conquest. In reality, if you look at the history that's followed since then, there was too much conquest or too much conflict. But the objectives, the vision, the goals were very noble ones."
Greens co-leader Marama Davidson called Luxon's remark "a little bit patronising".
But it was something else about Luxon's speech that riled up New Zealand First – Luxon's use of cue cards.
"You should be able to stand up on our national day and give a speech without notes," said Shane Jones.
Luxon said he is comfortable speaking without cue cards.
Others used notes too, but mainly in an effort to embrace te reo Māori.
ACT's David Seymour gave his entire speech in Te Reo. 
"I hope we showed that the principles ACT stands for transcends any language or culture," he said afterwards.
But Davidson wasn't impressed. 
"Whipping up racism in any language is still whipping up racism."
Attempts at Te Reo were welcomed, by most.
"I think it's good that they respected te reo Māori, but if they are unable to clearly articulate where they are coming from, then you shouldn't use people like us as a classroom to practice on," said Jones.
But when it comes to Te Reo in the title of the country, Kiwis aren't convinced.
In our latest Newshub-Reid Research poll we asked, what do you think the official name of the country should be?
The results show 52 percent said keep it as just New Zealand. Just over a third – 36.2 percent – thought we should add Aotearoa in, and 9.6 percent think we should ditch New Zealand completely and go with Aotearoa. 
Asked what he thinks our country's name should be, Hipkins said: "It's New Zealand but I'm also equally comfortable with Aotearoa as well."
Luxon said: "Personally, I use Aotearoa New Zealand inside New Zealand. I think when we are offshore, overseas, it's really difficult. I think New Zealand is the name we use overseas."
The Green Party supports Aotearoa.
However this was New Zealand First leader Winston Peters' view: "The official name of the country is New Zealand, and Aotearoa was never the name for this country by any Māori of this country, and particularly not the South Island."
The Prime Minister wouldn't commit to any consideration of it. He hasn't thought about holding a referendum on it. 
Deputy Labour leader Kelvin Davis thinks it's time. 
"It is New Zealand at the moment. It is a discussion we need to have."
Whether to embrace our native tongue in the name of the country, it's not a question or discussion Hipkins wants to open up.