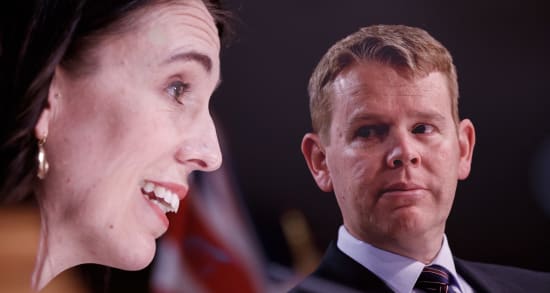 Chris Hipkins' policy purge gives far more insight into how he will govern than the reshuffle he announced last week. Hate speech, biofuels, media mergers and social insurance have been dumped in the worthy, but not important bin, writes political editor Jo Moir.
The front bench under Chris Hipkins' leadership looks almost identical to that of his predecessor's, but on Wednesday the Prime Minister took an axe to a bunch of policies that had been defended at length by Jacinda Ardern as recently as December last year.
Hipkins has kicked hate speech legislation and the social insurance scheme to at least next term, and the RNZ/TVNZ merger and biofuels mandate are gone for good.
READ MORE:
* Hipkins picks his team, turns focus to policy purge
* Reframing co-governance: Jackson's warning to Labour
He told Newsroom, "Many of these things are worthy, they're just not priorities at the moment" – clearly, they're policies he doesn't want to waste any political capital on.
It's possible he may have even personally disagreed with them when Ardern rubber-stamped them, but he wasn't going to throw her under the bus, instead saying Cabinet took collective responsibility for previous decisions.
It's noteworthy none of the canned policies come from any of his previous ministerial portfolios.
Wednesday's scrap heap is just the first tranche of policies to go, and while Hipkins says they're the "most significant", they'll by no means be the last.
Ministers have been told to look at their work programmes again to check there isn't any more tightening to be done and the Budget in May will also have more reprioritisation of funds.
A reading of the room has certainly taken place with Hipkins acknowledging "there isn't public support" for the social insurance scheme.
Hipkins was always expected to announce a new nugget or two when he hit the dump button, and he's focused on the cost-of-living crisis and the Auckland floods
Cabinet signed off on a $5 million relief package for Auckland businesses affected by the recent flooding – a direct response to the meeting he had with business leaders last week calling for help.
In addition, the Government will increase the minimum wage from April 1 by $1.50 to $22.70 per hour.
Hipkins said those earning the least are making "impossible trade-offs between food and medical care, dry homes and a pair of shoes".
While all of that is true, it will come as no great shock to anyone that the likes of Retail NZ are scathing of the announcement.
Hipkins tried to get ahead of any criticism on Wednesday saying Treasury analysis suggested there was unlikely to be any significant impact on unemployment as a result.
But it was the cost to consumers that Retail NZ has highlighted, warning it will inevitably lead to consumers paying more for products and will do nothing to help the cost-of-living crisis.
While Hipkins acknowledged small businesses would have concerns, he said his priority was not leaving behind those who earn the least.
The Prime Minister also pointed to the scrapping of the social insurance scheme being a positive for small businesses who would have faced additional complexity and cost if it went ahead.
A reading of the room has certainly taken place with Hipkins acknowledging "there isn't public support" for the social insurance scheme.
As for the RNZ/TVNZ merger, Hipkins wouldn't have lost any sleep over whether to ditch it.
By November last year there was officially nobody in Cabinet who could articulate what the point of it was, and Broadcasting Minister Willie Jackson's bumbling display on Q+A in December would have been the final nail in the coffin – if one was needed by then.
RNZ and NZ on Air are set to get the funding they need to fulfill their mandate and TVNZ bosses, who behind closed doors had little to no time for the merger, can get back to business as usual.
In the process he has taken some of the wind out of the Opposition's sails by cutting policies Labour was on the ropes over and going back to the drawing board on Three Waters.
The announcement that tested Hipkins the most in his post-Cabinet press conference was the ditching of the hate speech legislation and instead throwing the Bill to the Law Commission to work out how best to deal with it.
Under pressure as to why Labour wasn't following through on an election manifesto promise, Hipkins said there were legitimate concerns raised in the March 15 terror attack report but "the debate is going nowhere".
Instead, he wants to work towards political consensus – the Opposition strongly opposes the current legislation – and while there was no cost attached to the work programme, Hipkins said it was wasting time and energy.
While Three Waters wasn't on the chopping block, Hipkins has asked newly appointed Local Government Minister Kieran McAnulty to work with the sector and Māori to find a better structure.
It's expected the review will take a few weeks and Hipkins says the whole thing is being looked at, including the co-governance elements that have become a particular headache for the Government.
With the initial purging done, Hipkins will next week turn his attention to the things the Government is pushing ahead with.
In his speech to the House on Tuesday when Parliament resumes Hipkins will outline the work programme for the year, which is expected to include some new directions as well.
Every day of the past three weeks have been a first for Hipkins and in some respects it has been a baptism by fire.
There've been three states of emergency in Auckland, Northland, and the Coromandel due to flooding, and a policy and personnel reshuffle, Waitangi, and a daytrip to Canberra.
Hipkins is no stranger to pressure from the public, politicians, and the media, having fronted the Covid-19 response, but nothing prepares any MP for having to make snappy decisions that the entire country will judge you on.
For 45 minutes on Wednesday the Prime Minister was poised and prepared, leaving little unanswered and providing numbers when pushed.
In the process he has taken some of the wind out of the Opposition's sails by cutting policies Labour was on the ropes over – and going back to the drawing board on Three Waters.
Hipkins' biggest Achilles heel in the lead-up to the election looks to be co-governance, based on the rhetoric coming from National and Labour.
When asked by Newsroom what policies on the Government work programme, other than Three Waters, had a co-governance representation element, Hipkins said outside of ongoing Treaty settlement negotiations he wasn't aware of any.
Given National and ACT both support Treaty settlements and Three Waters is undergoing a serious revamp, the oxygen could yet be sucked out of that narrative too.
It might be the same faces front and centre in Hipkins' new Cabinet, but his policy priorities are shaping up to be a far cry from Ardern's.