App users click here to watch Emergency Management Minister Kieran McAnulty's press conference.
Cyclone Gabrielle is pummelling the upper North Island with gale-force winds and heavy rain leaving thousands without power, major flooding and slips. 
Emergency services have seen a rise in callouts overnight and have reported they've lost radio and cellular contact with their people on the ground in Tairawhiti.
Official Government advice:
Severe impacts of Cyclone Gabrielle are now being seen across the upper North Island. 

Red Weather warnings are in place for Northland, Auckland, Coromandel, Gisborne and Taranaki, with ORANGE warnings for the rest of the North Island as well as the top of the South (Marlborough, Nelson and Buller).

If it is safe to do so, stay at home. Avoid all non-essential travel.

Have an evacuation plan in case your home becomes unsafe to stay in.

If you have evacuated, please stay where you are until you are given the all-clear to go home.

Stay away from floodwater and never drive through floodwaters. 

Check in on neighbours and family members if it is safe to do so

Please stay up to date with the forecasts from MetService and continue to follow the advice of civil defence and emergency services.Advice on how to get prepared, including in te reo Māori, is at getready.govt.nz

Call 111 if you feel in any danger

Stay safe. Don't take any chances.
What else you need to know:
Tens of thousands of people across the Far North, Northland, and Auckland are without power

All trains are suspended in Auckland until at least midday on Tuesday

Aucklanders are urged to avoid travel on Monday night and Tuesday

Some Muriwai residents were evacuated due to "extreme slip risks" as two houses in one street collapse

Some communities on the east coast of the Coromandel Peninsula are cut off

All domestic flights to and from main centres into Auckland have been cancelled, along with a growing list of international flights

The Auckland Harbour Bridge is open but authorities say it could close at any time.
Useful websites: 
Civil Defence centres and shelters are open in Auckland. A list of where they are is here.

If you need help and support during the emergency, visit the Auckland Emergency Management website.

For a list of disruptions to services and facilities, visit the Interruptions to Service and Facilities page on the Auckland Council website.

For more information on power outages in Auckland check here: Vector – https://help.vector.co.nz/map, Counties Energy – http://app.countiespower.com

For power in Northland click here or the Far North click here

For public transport information visit Auckland Transport here

For nationwide road and travel updates visit here
9:57am – Ball says the situation is evolving minute by minute. Self-evacuations and formal evacuations are underway in Hawkes Bay. They want additional NZDF support and that is being addressed right now. 
Ball says there is no further information on the missing firefighter.
McAnulty says it's a very distressing situation for all involved. The country relies on volunteer firefighters. I really feel for their family
9:55am – It is a pretty high bar for a national emergency, says McAnulty. 
The criteria for a national state of emergency is assessing the local response, the resources they have and what has already been allocated. They look at whether there is a benefit to coordinating nationally rather than locally. It would now be beneficial for NEMA to assist with coordination, McAnulty says. 
He adds it's not something politicians should be doing without sound advice as it is significant. NEMA has provided McAnulty and the Prime Minister with regular advice since Sunday on whether the national emergency was necessary.
9:52am – Ball said the national state of emergency gives NEMA power to set overall intent and allocate critical resources in a coordinated way. 
"This should give assurance to Kiwis. It is not NEMA's intent to start micromanaging the response and continues to have confidence in local CDEM groups. NEMA is hugely appreciative of community groups, iwi, and others," Ball said.  
A number of Civil Defence centres are open, if you are re-locating tell friends and families, Ball says. 
If the advice is to stay at home or minimise travel, follow that advice. Watch for debris on roads. Do not go into flood waters. Do not take chances, Ball says.
He says there wasn't a single event that led to the national emergency, but engagement on Tuesday morning with local and national groups – like police, FENZ, NZDF – showed it was necessary. Resources, like the military, are already out helping.
9:50am – NEMA's Roger Ball says the Tararua district has declared an emergency for its area. 
He says there are multiple weather warnings and watches in place and the effects of the cyclone will continue to be felt throughout the day.
Ball says NEMA has been in close contact with Civil Defence throughout the country and based on conversations, their conclusion was a national state of emergency should be declared.
The director of NEMA and other controllers can now direct and control the response, including the allocation of resources and setting priorities.
9:47am – McAnulty's message to those affected is "safety first, look after each other".
He urges people to minimise travel in affected areas and listen to local authorities. 
"If you are concerned about slips, don't wait for local authorities to provide guidance. Leave and move to civil defence centres," he says. 
McAnulty has thanked iwi, community groups and others for providing support to those affected and says these groups have been working night and day
9:45am – The national state of emergency applies to the six regions which have applied local states of emergency, McAnulty says. 
"This is not a reflection on the outstanding work of local authorities. It is simply that NEMA's advice is we can better assist affected regions through a nationally coordinated approach." 
NEMA has been providing advice to McAnulty and Prime Minister Chris Hipkins on the need for a national state of emergency since Sunday. 
McAnulty says local authorities said on Tuesday morning a national state of emergency was necessary.
It will allow NEMA to coordinate the response, provide additional resources and set the priorities. This is a significant legal instrument
9:42am – McAnulty says Cyclone Gabrielle has had major impacts across most of the North Island.
He has called it a "significant disaster" and high winds and rain are expected on Tuesday
9:41am – Kieran McAnulty has just started speaking. 
9:37am – We're expecting Emergency Management Minister Kieran McAnulty to speak very shortly. You can watch the press conference above.
9:27am – Auckland Emergency Management says rescue efforts and evacuations are underway in Muriwai. 
Here is the full statement:
Emergency responders and the New Zealand Defence Force are at Muriwai helping evacuate residents who have been sheltering in the Muriwai Surf Club following landslips and flooding across Auckland's west coast.
"It has been an incredibly tough night for communities across Tāmaki Makaurau, especially Muriwai. Our thoughts are with the whānau and the colleagues of the Fire and Emergency New Zealand crew directly involved in responding to the major incident on Motutara Road," says Deputy Controller Rachel Kelleher.
A house collapsed at around 10pm last night on Motutara Road, Muriwai as Fire and Emergency was evacuating residents. One Fire and Emergency officer is currently unaccounted for.
Auckland Emergency Management issued an emergency mobile alert to mobile phones in Muriwai at 1.30 am asking people in Motutara Road and Domain Crescent to evacuate due to increased risk of landslides.
Around 200 residents took shelter at the Muriwai Surf Club overnight, and NZDF is now working to support voluntary evacuations to the Waimauku War Memorial Hall Civil Defence Centre, where health professionals and St Johns staff are on site. They will then be invited to move to the Trusts Arena which has more room.
Building assessors are assembling at Muriwai to begin visiting affected homes to assess for damage and, where needed, issue placards. These assessments will be conducted over the course of the morning.
Auckland Emergency Management is also responding to reports of trees down and collapsed or damaged houses in Piha, Karekare, Leigh and Wellsford. Communities have also been isolated in Piha and Karekare due to landslips, and Bethells Beach due to flooding.
Much of the region saw significant rain and wind over night that caused widespread power outages, surface flooding, slips and damage to property.  
About 50 people from 33 households remain evacuated from their homes in an apartment building in Mt Eden, due to danger posed by a nearby unstable structure. Families were encouraged to stay with friends or family and a small number who required shelter were taken to Trusts Arena in Henderson.  
"This has been and continues to be a serious and significant event for our region, and we ask that you continue to follow Auckland emergency management advice on our website and social media channels," says Rachel. "Keep up to date and look after one another."
The severity of the impacts of Cyclone Gabrielle have further been confirmed as the New Zealand Government has this morning declared a National State of Emergency, to assist in the response to the cyclone.
9:15am – The press conference with Kieran McAnulty has been delayed until 9:30am.
9:10am – Waka Kotahi NZ Transport Agency (NZTA) is urging drivers to avoid all non-essential travel in Upper North Island. 
Here is the full statement from NZTA:
Waka Kotahi NZ Transport Agency is strongly urging people to avoid all non-essential travel in the Upper North Island, with several state highways and local roads closed due to downed trees, slips and flooding.
Several regions remain under MetService Heavy Rain and Strong Wind warnings, and people are urged to avoid all non-urgent travel.
Communications outages in several regions are preventing contractors from updating roadside electronic Variable Message Signs (VMS) with accurate information for motorists.
Waka Kotahi National Emergency Response Team spokesperson Mark Owen says the communications outages in affected areas means that several VMS signs which motorists usually rely on for information on road conditions and closures are non-operational or not displaying current information.
"We're keeping our on-line Journey Planner up to date with the latest available information, and this is still the best source of the most current information for anyone who does need to travel.
"We'll re-instate our VMS signs as soon as communications links are re-established, but we must emphasise how volatile the situation is in areas most affected by the storm, and we are urging people not to travel unless it's absolutely necessary.
"Conditions are hazardous on many highways and local roads, with trees and other debris down, surface flooding, continuing heavy rain and high winds making driving conditions extremely difficult," Mr Owen says.
Waka Kotahi is also urging anyone who does need to drive in areas affected by severe weather to adjust their driving to the conditions, which means slowing down, increasing following distances, switching headlights on and watching for flooding and other debris on the road.
9:07am – Emergency Management Minister Kieran McAnulty will hold a press conference at about 9:15am after a national state of emergency was declared. You can watch it above.
9:04am – Muriwai volunteer lifeguard Michael Ward told AM he lives 10 minutes from the beach and it was a "very wild night".
"It was the wildest night we've had," he told AM.
He said he lost power at about 3am.
"Everyone out here is on tank water and water pumps, so when you lose power you lose water, toilet flushing, you lose the lot," he said.
People started evacuating to the surf club at about midnight.
8:46am – The Government has declared a National State of Emergency. Here is the full statement:
The New Zealand Government has this morning declared a National State of Emergency, to assist in the response to Cyclone Gabrielle. 
The Minister for Emergency Management, Kieran McAnulty, signed the declaration at 8.43am.
Prior to signing the declaration he advised the Prime Minister, and the Opposition spokesperson for emergency management, who were both supportive of the declaration.
The declaration will apply to the six regions that have already declared a local State of Emergency: Northland, Auckland, Tairāwhiti, Bay of Plenty, Waikato, and Hawkes Bay.
This is only the third time in New Zealand history that a National State of Emergency has been declared.
"This is an unprecedented weather event that is having major impacts across much of the North Island," Kieran McAnulty said.
"Since Sunday, NEMA have been in close contact with local civil defence emergency management (CDEM) teams of affected areas to assess the need of a declaration of a state of National Emergency.
"NEMA has been giving advice to myself and the Prime Minister on the need of a national State of Emergency based on the assessments of the local teams, and until now the advice has been that it was not necessary.
"NEMA met with the affected CDEM groups. Based on feedback from the groups and NEMA
I consider that the criteria have now been met and a National State of Emergency would be beneficial.
"The local leadership, CDEM groups, and emergency responders in all of the affected areas have been doing an outstanding job, but the widespread damage caused by this cyclone means we need a National declaration to support them.
"This declaration will enable the Government to support the affected regions, provide additional resources as they are needed, and help set the priorities across the country for the response.
"A National State of Emergency gives the National Controller legal authority to apply resources across the country in support of a national level response.
"This declaration gives us the ability to coordination further resources for affected regions. I want to emphasise that the Government has already been surging support and resources to the regions for some days."
8:45am – Concrete pathways have been completely destroyed in Murray's Bay in Auckland.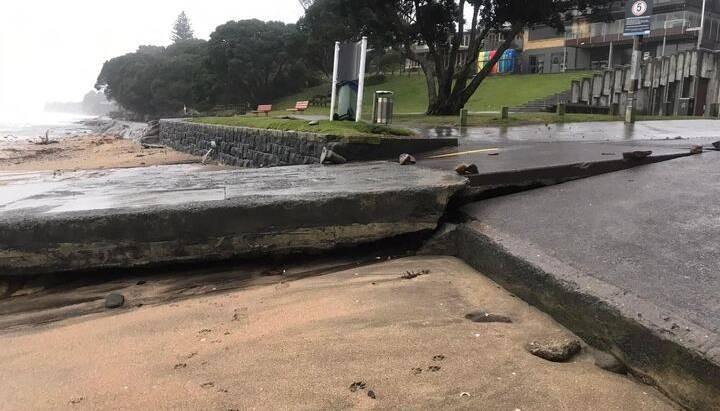 8:40am – People in the Far North are being warned they may not get power again until this weekend. 
A Newshub reporter said more than 44,000 households have lost power in the region.
8:35am – Transpower has issued an emergency grid notice for Hawke's Bay and told people to prepare for an "extended outage".
Transpower issued the notice at 8:17am.
8:34am – Northland farmer Grant McCallum told AM the power is still out and he can't milk his cows.
He added a lot of trees are down and he's working to clear them so tankers can access his farm. 
McCallum told AM that over 300ml of rain has fallen since midnight on Saturday. 
"It's unbelievable and it's still raining"
8:29am – Hawke's Bay Civil Defence says rivers across the region are very high and people should stay away from them.
Heavy rain has filled the Mangarau detention dam in Havelock North, with the excess flowing into the Mangarau Stream.
"Residents will notice higher flows than usual in the stream and are being asked to stay away from it.
"The Waiohiki Bridge is closed and the Tutaekuri River is very high; residents are being asked to stay away from it.
"The Esk River is in flood and residents are being assisted," Hawke's Bay Civil Defence says.
8:27am – Gisborne Mayor Rehette Stoltz told AM residents are asked to stay at home and listen to the radio to keep themselves updated.
"It is fair to say our community cannot communicate with us," she told AM.
She confirmed there is no internet and phone communication in the area. 
8:26am – The press conference has now ended. 
8:25am – Auckland Mayor Wayne Brown said he extends his deepest condolences to the people of Muriwai and volunteer fire crews who have had a terrible night.
"I recognise thousands of people have been impacted, I'd like to reiterate my thoughts and concerns and those associated with FENZ," he said.
8:24am – Childs said a royal navy vessel is conducting a search and rescue operation for someone adrift at sea in a yacht.
A locator beacon was just activated and the navy will be there within two hours, Childs confirmed.  
"NZDF is ready to provide the best response possible," Childs said.
8:20am – Colonel Mel Childs of the NZ Defence Force (NZDF) said staff across the upper North Island have been working to provide continued support to areas affected by the Cyclone. 
Childs said three vehicles and response teams are helping with Northland evacuations.
Thirty NZDF staff are helping with the Muriwai emergency.
8:18am – Fire and Emergency New Zealand deputy national commander Steph Rotarangi said it's been an eventful night and there have had been several hundred significant incidents attended. 
Between 7pm and 7am, FENZ communications centres logged 985 incidents and this number is expected to climb steeply today, Rotarangi said.
8:16am – Fire and Emergency communications centre national manager Gavin Travers said they lost all radio and cell contact with crews in Gisborne and Tairāwhiti at 3am.
Travers said they arestill trying to maintain contact with crews just before 8am.
8:12am – Kelleher acknowledges everyone that has been affected by Cyclone Gabrielle overnight.
She said the heaviest rain and wind were felt across the eastern regions and in the 12 hours to 4am, 265mm fell in Piha and 206mm in Muriwai. 
Kelleher said the west coast of the region suffered some of the most damaging effects. 
She said evacuations will likely continue throughout the day in Muriwai. 
Kelleher said about 33 households were evacuated from an Mt Eden apartment building on Monday evening.
8:05am – Auckland Emergency Management Deputy Controller Rachel Kelleher has just begun  speaking at the press conference. You can watch it above. 
Follow the live updates below. App users click here for the latest updates. 
8:03am – Top Energy has confirmed 44,000 people are without power in Northland.
8am – Thames-Coromandel Civil Defence Controller Garry Towler said it's "probably fair to say the entire coromandel is closed" at the moment.
He told AM every single state highway and the local highway is closed and that won't change until they clear around 100 slips that came down overnight.
He said there are about 15,000 households on the Coromandel without power and there are 11 cellphone sites down.
Towler told AM this has made it "problematic" and it's been a "big night".
"What we have done and what we have really, really pushed for was for everyone to prepare," he said. "I'm pleased to say probably 98 percent of the population has adhered to that warning and did just that. Our Civil Defence centres are virtually empty and that is a success story. People have taken responsibility for their own well-being."
7:50am – Auckland emergency officials will share an update on the extent of Cyclone Gabrielle's impact at 8am. You can watch the media conference above.
7:46am – Civil Defence Minister Kieran McAnulty is urging Kiwis to keep safe and stay at home if it is safe to do so.
He said the news about the volunteer firefighter in critical condition is "distressing".
"It's incredibly severe the news that is coming out from overnight, particularly the reports that there have been two volunteer firefighters trapped. These are highly trained professionals but they're volunteers," McAnulty told AM.
"They left their own families to go and serve their communities, so to hear they're trapped by the weather events is incredibly distressing."
McAnulty urges Tairāwhiti locals to have a battery-powered radio or to use a car radio to receive their information.
He told AM the minute he receives advice a national state of emergency is needed, he will be signing the forms to declare one.
McAnulty said the decision will come down to if local groups feel they can respond with their own resources to emergencies.
He and Prime Minister Chris Hipkins have been receiving advice since Sunday and, so far, no national state of emergency has been needed, McAnulty said.
7:43am – Gregory said a team will be coming up from Christchurch at lunchtime today to help with the rescue.
He added they've not had any contact with the trapped firefighter and he has concerns for him as well as the firefighter in a critical condition.
"With any crush injury, it becomes very risky as far as when a person is released after being effectively trapped for a period, so it's a big concern and the health of that firefighter."
He said the rescue was suspended because the conditions were "really dangerous".
"It was just too dangerous, the hills were moving, the rain was driving in there and the whole street has been evacuated and it was too dangerous to be in the vicinity let alone on the site itself."
7:32am – Fire and Emergency NZ chief executive Kerry Gregory said it is a highly technical rescue for the trapped firefighter. 
He said they have "grave concerns" for the trapped firefighter and his thoughts are with every firefighter. 
7:28am – Fire and Emergency is about to  give update after firefighters were caught up in west Auckland. You can watch it above. 
7:10am – Whakatāne is one of 10 places currently under a state of emergency.
Whakatāne District Acting Mayor Lesley Immink told AM the region hasn't been affected as badly as first thought.
"It seems a little bit strange, while we did have the wild wind and rain, the storm surges weren't quite as high but we've received advice not to hold our breath until after high tide passes at 1:30pm," she told AM.
She said there are no reports of people needing to be rescued or that are trapped but there are power outages and road closures.
Immink confirmed there is a logging truck trapped but the driver is safe.
7am – Fire and Emergency confirmed radio and cellular communications has been lost in Tairawhiti.
National Emergency Management Agency (NEMA) national operations manager Roger Ball told AM it's quite rare to have interrupted communications on such a widespread basis, but it does happen in local places from time to time.
He confirmed NEMA has spoken to Tairawhiti Civil Defence by SAT phone on Tuesday morning.
He told AM it is a concern that Tairawhiti locals might not be able to contact emergency services for help.
"I think that is a concern for us, so we're needing to see those telcos and cell phone towers get back up and running as soon as possible, that's an absolute priority," he said.
"We don't want people to be left without the sense of being able to call for help if they need it. But in the meantime, our official message is if you feel unsafe, look after yourself, self-evacuate, go to friends and family first if you can otherwise look to your local civil defence for information about your civil defence centres."
6:58am – In Ruakākā, there are cars abandoned and taped off due to rising flood levels.
6:52am – Gisborne is waking up to no power, phone service and internet on Tuesday morning,  a Newshub reporter in the area has confirmed. 
She said the only communication is by satellite phone and river levels are currently running higher than Cyclone Bola.
6:41am – Fire and Emergency New Zealand have provided an update on the missing firemen. 
Last night, a crew from one of our volunteer fire brigades were investigating flooding in a house on Motutara Road in Muriwai. While they were at the property, a landslide occurred on the slope above, and the house collapsed.
Two of our firefighters were trapped. One was rescued early this morning and is in a critical condition in hospital. The search for our second firefighter was suspended in the early hours of the morning due to the instability of the land.
A full rescue operation was initiated as soon as the landslide occurred, involving 10 crews from seven brigades and including Urban Search and Rescue (USAR), Police and St John.
A geotechnical assessment of the area will be carried out as soon as possible so decisions can be made about resuming the search.
Our thoughts are with our firefighters, and with their loved ones. We are also providing support to the other members of their brigade. This is a very difficult time for them, and for every member of Fire and Emergency NZ when we are also focused on responding to the continuing need in so many communities across the North Island today.
I expect to provide more information at a media briefing this morning.
6:30am – National Emergency Management Agency (NEMA) national operations manager Roger Ball confirmed 10 regions are currently under a state of emergency.
Ball told AM Cyclone Gabrielle is following its predicted path and is moving south and a bit east down the North Island.
He said conditions will ease across the North Island but not until Tuesday afternoon.
Ball urged people to stay safe and evacuate if they feel unsafe.
The Prime Minister's office has told AM there is no decision yet on any national state of emergency but added it was being reassessed every four hours.
6:10am – Auckland Emergency Management Duty Controller Rachel Kelleher couldn't confirm the full number of evacuations but confirmed 113 people have been staying in 14 evacuation centres overnight.
She told AM there are extensive power outages across Auckland. 
"We have extensive power outages across the region and with winds expected to pick up throughout the day we expect that to continue," she said. 
"In terms of down power lines, people need to take absolute care if they get into a situation where they encounter those and do not at all come into contact with them."  
She urged people to stay home on Tuesday. 
"While the heavy rain warning has passed, we are still expecting very heavy wind throughout the day and with those sodden grounds we can expect more land instability and more trees to come down," she said.
"So the message is avoid any unnecessary travel, stay in place but of course if they think they're an immediate danger to get themselves to safety."
5:57am – Napier City and Hastings District have declared a local state of emergency on Tuesday morning.
Napier Mayor Kirsten Wise said the most important thing is to keep the community safe. 
"There are areas of Napier and Hastings that have been impacted worse than others and this declaration will enable councils and emergency services to act swiftly," Wise said.
Hastings Mayor Sandra Hazlehurst said it's critical residents' fellow police and Civil Defence messaging.
"The most important thing is that we all stay safe. If you're able, shelter in place, if there is danger call 111 immediately," Hazlehurst said.
The most affected area is the Esk Valley with flooding affecting properties. Fire and Emergency teams are attending.
Rissington residents have been evacuated and there are power outages across the district.
There is damage to the Esk River Bridge and the Puketapu Bridge is impassable. Residents are urged to call 111 if they believe lives are in danger.
People are asked to stay off the roads across the district because of the amount of surface flooding and debris and they have also been asked to limit water use as the wastewater systems are at capacity.
5:45am – Counties Energy Media have provided an update at 4:30am on the latest power outages hitting the region. 
Here is the full statement: 
There is widespread and severe damage to the electricity network from Cyclone Gabrielle. We currently have around 2.500 properties without power, predominantly from significant numbers of individual outages which will be a lengthy restoration process. It is expected the network will continue to suffer more damage for at least the next 24 hours.
Damage extends across the entire region – from the tip of the Awhitu Peninsula through to Waikaretu on the west coast, over to Kaiaua on the east, and scattered everywhere in between.. Trees and branches, and the massive wind speeds have damaged lines, poles and transformers. 
Areas which are currently severely affected include the Awhitu Peninsula, Hunua, Paparimu, Ararimu and Paparata.  Access issues are likely in these areas with tree damage, steep ground, slips and unstable ground making it difficult for crews.  Parts of Pukekohe is also currently suffering larger areas of damage.
The conditions are too dangerous currently for our crews to try and restore power, however, if conditions allow, they will start restoring from first light.  Our fault crews are currently simply making safe, isolating power to any safety concerns such as lines and poles down and damaged equipment.
We're facing a really dangerous situation with many lines down and appeal to our community to please be careful and treat all lines as live.  If they see a downed power line or damaged power equipment – stop, retreat and stay well clear.  Unless they know our crews have isolated power – stay at least a bus length away from any lines down and do not touch anything in the vicinity (fences, gates, vehicles).   It's our top priority to get a crew there to isolate the power – and to keep them, their whanau and their animals safe.
We're appealing to our customers to keep our community safe.  Please don't phone outages in – report them on the Outage Hub. We need the phone lines free for safety reports – report all downed lines and damaged equipment on 0800 100 202 or on the Outage Hub – www.app.countiesenergy.co.nz  Download our Outage Hub to your smartphone now – type app.countiesenergy.co.nz in your smartphone internet browser. Instructions here – https://www.countiesenergy.co.nz/art…/download-outages-app
We should be in a position to start assessing damage and restoring when the sun comes up if conditions allow – however please be aware that the network has suffered and continues to suffer severe damage and power outages will be prolonged.
We'll be updating our website – www.countiesenergy.co.nz/storm-page  and Facebook at regular intervals with as much information as we can.
In extreme situations such as this our crews 'make safe' first, moving around the region isolating power to any damaged or downed lines and electrical equipment before moving to restore the network. Once essential services are restored crews then work to repair widespread outages affecting significant numbers, then multiple property and businesses then single properties.  Single properties and those with damage to privately owned service lines could be without power for some time. Some outages will be prolonged and could last multiple days.  Access to some roads and properties will be blocked.
5:35am – Evacuations also took place in the south Auckland suburb of Ramarama overnight. 
One family told Newshub they were rescued from their home alongside their 16 dogs and taken to an emergency evacuation centre.
5:30am – Auckland Civil Defence has confirmed 200 people have been evacuated from Muriwai overnight and sent to two different emergency evacuation centres in the area.
Civil Defence also confirmed there is fairly widespread damage across Auckland with surface flooding, a significant number of trees down and major power outages.
5:20am – Fire and Emergency have provided an update on the latest impacts of Cyclone Gabrielle. Here is the full statement:  
Cyclone Gabrielle's impact is continuing to be felt as it moves down the Northern part of the North Island. Fire and Emergency is being kept extremely busy with the Cyclone affecting a growing number of areas. We have lost radio and cellular contact with our people on the ground in Tairawhiti and are working to regain contact by other means.
Fire and Emergency logged 55 storm-related incidents in one hour from 3-4am, bringing the total for the previous 12 hours to 867 (note that this is a rolling 12-hour period).
Of the 55 incidents logged between 3-4am, 9 are in Northland, 12 in Auckland, 12 in Waikato, 3 in Bay of Plenty and 19 in Hawke's Bay.
Fire and Emergency is prioritising the response to calls where life and safety is at risk. Currently these include:
a person trapped in a car in Whangarei

trees down, a house fire, power lines on fire and assistance with evacuations in Kaipara District

flooding, houses slipping down banks, doors blown in and trees down in Auckland

flooding affecting properties in Thames-Coromandel District

flooding and a tree onto a house in Waikato

burst culvert in Matamata-Piako District

a tree down on a house in Rotorua

sparking power lines in Taupo

assistance with evacuations in Gisborne

flooding and evacuations in Hastings
Fire and Emergency's Auckland Response Manager Vaughan Mackereth is reiterating requests that people only call 111 when life and safety are at risk to ensure people who urgently need help can get through to our communications centre.