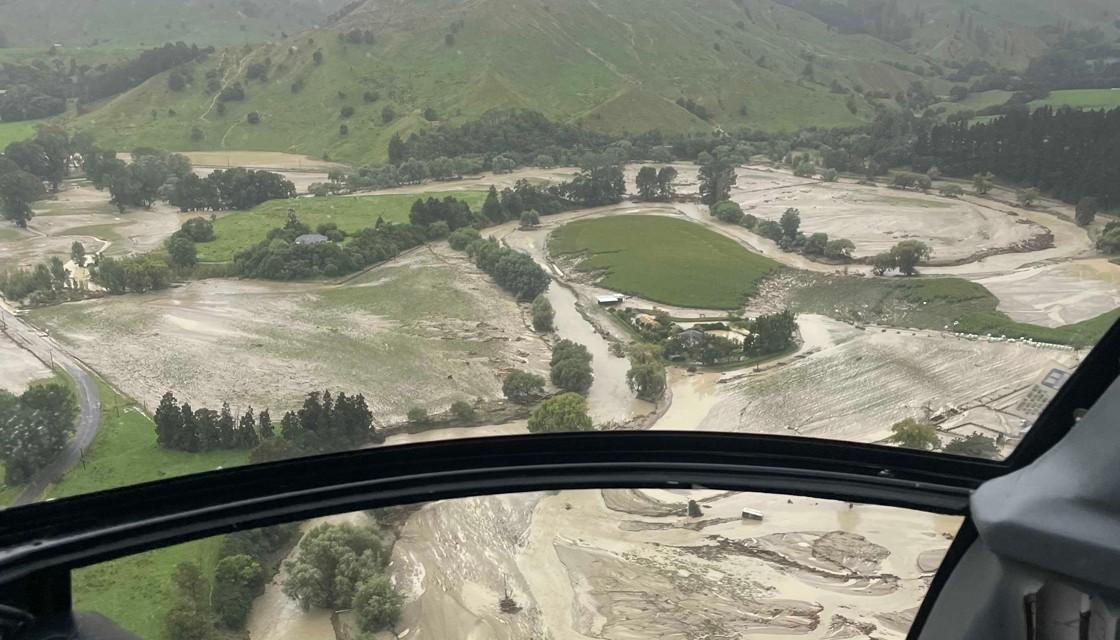 Kiwis are waking on Wednesday morning to massive destruction and heartbreak after Cyclone Gabrielle left one person dead following a landslip on her property in northern Hawke's Bay, while a second person's body was found on a storm-ravaged beach.
It comes after Emergency Management Minister Kieran McAnulty declared a state of national emergency – just the third time in New Zealand's history that such an instrument has been needed.
Official Government advice:
Severe impacts of Cyclone Gabrielle are now being seen across the upper North Island

If it is safe to do so, stay at home. Avoid all non-essential travel

Have an evacuation plan in case your home becomes unsafe to stay in

If you have evacuated, please stay where you are until you are given the all-clear to go home

Stay away from floodwater and never drive through floodwaters.

Check in on neighbours and family members if it is safe to do so

Please stay up to date with the forecasts from MetService and continue to follow the advice of civil defence and emergency services.Advice on how to get prepared, including in te reo Māori, is at getready.govt.nz

Call 111 if you feel in any danger. Stay safe – don't take any chances.
What else you need to know:
The Government has declared a national state of emergency
Tens of thousands of people across the Far North, Northland, Auckland, Gisborne and Hawke's Bay are without power
Residents in Gisborne and parts of central Hawke's Bay are being told to urgently conserve water
Some Muriwai residents were evacuated due to "extreme slip risks" as two houses in one street collapse

Some communities on the east coast of the Coromandel Peninsula are cut off.
Useful websites: 
Civil Defence centres and shelters are open in Auckland. A list of where they are is here.

If you need help and support during the emergency, visit the Auckland Emergency Management website.

For a list of disruptions to services and facilities, visit the Interruptions to Service and Facilities page on the Auckland Council website.

For the latest on MetService's weather warnings, click here

For more information on power outages in Auckland check here: Vector – https://help.vector.co.nz/map, Counties Energy – http://app.countiespower.com

For power in Northland click here or the Far North click here

For public transport information visit Auckland Transport here

For nationwide road and travel updates visit here
Fellow Newshub's live updates below. App users click here.
9:30am – The New Zealand Defence Force (NZDF) says personnel in helicopters rescued 23 people and five dogs on Tuesday, some of whom were winched from roofs of houses.
"In some cases, flood waters were up to the second story of homes where people were being rescued," the NZDF said in a statement.
"Earlier on Tuesday when water banks burst, it flooded the agricultural landscape surrounding Hastings, leaving hundreds cut off from town.
"Overall, the NZ Army teams had rescued about 200 people, with that number still climbing."
9:20am – MetService has now issued heavy rain warnings for Tararua, Wairarapa, Wellington and Marlborough.
9:15am – Te Whatu Ora/Health New Zealand Hawke's Bay has provided the below update: 
The following services are cancelled for Wednesday, February 15, 2023: 
Elective surgeries
Endoscopy services
Outpatient (Napier, Hastings, Wairoa and Central Hawke's Bay) appointments cancelled
Affected patients are being contacted and offered a telehealth appointment if appropriate or rebooked as soon as possible.
Acute theatre continues as well as urgent radiology procedures.
Two urgent care clinics open
As at Wednesday, February 15, all general practices are shut except for the below two urgent care clinics which remain open:
City Medical at Napier Health Centre (24 hours)
Urgent care clinic at Hastings Health Centre (until 7pm tonight).
Pharmacies open
Napier
Napier Health Centre
Unichem on Munroe Street at The Doctors Napier
If any Napier pharmacists are in a position to assist please report to Napier Health Centre.
Hastings
Hastings Health Centre
Unichem on Russell Street at The Doctors Hastings
Gilmours Pharmacy in Havelock North
Flaxmere Pharmacy
Unichem Waipukurau
Te Whatu Ora acknowledges whānau will be concerned about the whereabouts of loved ones who may have been impacted by flooding but asks people do not come into the Hawke's Bay emergency department unless seeking urgent medical care.
Public health and hygiene
Te Whatu Ora is reminding residents to take care with their health and hygiene following flooding.
Keep out of flood waters as the water may be contaminated with sewage, farm run-off or other hazardous material. One of the main risks from flood water is gastroenteritis.
Most people who develop gastroenteritis can manage their symptoms at home but it can be more serious for the very young, very old or those with underlying medical conditions. If you feel unwell after coming into contact with floodwater call your doctor or call Healthline for free on 0800 611 116.
If you have no power, use another heat source such as a BBQ to bring the water to a rolling boil for one minute. (Note: keep the BBQ outside at all times. Do not bring it inside the house or garage because charcoal or gas BBQs produce large amounts of carbon monoxide which can be fatal).
If you cannot boil your drinking water, then add purifying tablets or plain, unscented household bleach. Add half a teaspoon of bleach per 10 litres of water, mix and leave for at least 30 minutes or follow instructions on purifying tablets.
Store treated water in a covered container.
Meals on Wheels
Please note that Meals on Wheels is not operating. If you need support please ring the Civil Defence Emergency Management.
Staffing
An urgent care centre has been stood up at Napier Health Centre.
Staff who are based in Napier and have the availability to assist are asked to phone 06 873 2158 or present to Napier Health Centre to be added to a roster.
Napier-based pharmacists are also asked to report to Napier Health Centre if they can assist.
Hawke's Bay Hospital is mindful of the difficulties some staff face getting to work and is proactively developing rosters for the next 72 hours.
Hastings-based nurses can also ring 06 873 2158 present to the hospital Operations Centre on the second floor of the Tower Block, or email [email protected] to express their availability.
Details regarding any assistance required in Wairoa and Central Hawke's Bay will be forthcoming.
Plans are being put in place to ensure accommodation and food will be provided, close to the hospital, for staff who are unable to return home safely.
9:13am – Cyclone Gabrielle obliterated much of what was in her track and incredible helicopter footage captured by Newshub shows the sheer destruction she's left.
The helicopter footage captured on Wednesday morning paints a devastating image for communities in Muriwai, Piha and Karekare. 
Large slips have claimed homes and covered roads. 
Watch here.
9:05am – Auckland power authority Vector says 30,000 people in the region remain without electricity, down from 42,000.
"The bulk of the outages continue to be across the north and west of Auckland where challenges such as blocked roads, caused by fallen trees and slips, are making it difficult for our teams to access," Vector said in a statement. "The significant damage to electricity networks across the North Island, including the Auckland region, will take time to repair and some people, particularly in more rural areas, should expect to be without power for several days.
"We understand that this is frustrating and would like to reassure affected families that we are deploying all resources available to get them back up and running. We will provide more detailed updates about how long it will take to restore different areas in the Auckland region, as soon as we have them."
9am – Forecaster WeatherWatch has mapped the below comparison between 1988's Cyclone Bola and Cyclone Gabrielle:
8:53am – Below is an update from St John ambulance:
Overnight, Hato Hone St John received 668 111 calls nationally and responded an ambulance to 510 incidents. Of those 510 responses, 98 were in Northland, 328 in Auckland, 165 in Central West, 110 in Central East (includes Tairāwhiti) and 276 in Central South (includes Hawke's Bay).
While incident numbers and ambulance responses are down on previous days, the work is complex and response and transport are taking significantly longer.
8:45am – Earlier, Gisborne Mayor Rehette Stoltz told AM she's in constant contact with Civil Defence and the Government on how the region can get through this difficult period.
8:43am – A cargo plane is on its way to Gisborne with satellitle equipment and generators to restore essential communications to the region, Vodafone chief executive Jason Paris has confirmed.
8:32am – Gisborne residents are being told to urgently conserve water as the region remains cut off, and large parts remain without cellphone service or power. 
Multiple breaks in pipes that feed water into the city has left their supply at "critical" levels.
Supermarkets remain closed and, while authorities are reassuring residents there is enough food and fuel to go round, the advice is for people to use what they have wisely.
Gisborne Mayor Rehette Stoltz told AM officials will be delivering a message to every household to dramatiaclly drop their water use.
8:30am – West Auckland's Karekare is cut off from power, internet and cellphone reception.
"We have suffered major loss to infrastructure and personal property," chief fire officer Toby Hyman said in a statement. "My understand is that at least six homes have slipped from their foundations."
8:27am – Below is an update from Auckland Transport, which says it's expecting fewer disruptions on Wednesday.
Bus
Most scheduled bus services are running as usual today but there are some delays, detours and cancellations across the network, especially up north and out west where there are more road closures. If you're in these areas, please check before you travel and allow extra time.
With most Auckland schools having reopened today we are providing school bus services. As usual we have asked our operators to prioritise running school these services.
Train
Services are running to schedule on the eastern and southern lines today, while trains on the western line are operating half-hourly between Britomart and New Lynn, with hourly rail replacement buses in place between Britomart and Swanson.
Rail replacement services continue to operate in place of trains on the Onehunga Line and the southern line between Newmarket and Ōtāhuhu because of KiwiRail's rail network rebuild.
Ferry
Most ferry services have returned to their regular timetables today since conditions on the harbour have eased overnight, although Gulf Harbour services remain replaced by shuttles today.
Damage to the structure of Birkenhead wharf was identified last night which means Birkenhead ferry services will be replaced by alternative transport services today.
8:15am – Residents across central Hawke's Bay are waking up to mass devastation after floodwaters inundated homes.
Earlier, Central Hawke's Bay District Mayor Alex Walker told AM making sure everyone is accounted for is a priority on Wednesday morning.
Walker has also confirmed water supply for Waipukurau, Waipawa and Ōtāne has nearly run out. She said Fonterra tankers are helping to replenish supply.
8:03am – There are reports evacuation centres in Napier are at capacity, forcing people to sleep in their cars.
Civil Defence is positive it'll be able to access the region on Wednesday and provide much-needed support, Emergency Management Minister Kieran McAnulty told AM.
8am – Earlier, Air New Zealand boss Greg Foran told AM he was confident flights would resume on Wednesday – although he warned the schedule would be "clunky".
"We are pretty sure we're going to be able to get underway today but there will be some challenges because we were hoping to get underway yesterday," he said. "So now it's a matter of juggling planes and crew to get them in the right place because we sort of got halfway through it yesterday and then we had to bring things to a stop. So the start this morning will be clunky, would be the best way to put it."
7:45am – A person was critically injured by a falling tree in Auckland on Tuesday afternoon, police say.
Emergency services were called to the scene on Allum St in the suburb of Kohimaramara just before 3:45pm.
One person was taken to hospital in a critical condition, a police spokesperson confirmed to Newshub. 
7:41am – FENZ chief executive Kerry Gregory has confirmed the identity of the firefighter hospitalised by the slip in Muriwai.
He's been named as Craig Stevens. He remains in hospital in a critical but stable condition.
7:36am – Officials from Fire and Emergency New Zealand have confirmed the search for the missing firefighter in Muriwai have resumed on Wednesday morning.
7:15am – Fire and Emergency New Zealand officials are providing the latest on its Cyclone Gabrielle response at a 7:30am press conference. You can watch this live in the video above.
7:14am – Orchard workers who livestreamed their ordeal being stranded on roofs in Hawke's Bay were eventually rescued after six hours waiting for help. 
Incredible vision supplied to Newshub shows the group of workers getting air lifted from a roof amid severe flooding.
They were then taken to an evacuation centre in Hastings.
The workers became stranded after Tutaekuri River burst its banks, forcing them to use anything they could to stay afloat before finding their way to the rooftops.
7am – Hawke's Bay Civil Defence is urging anyone in Napier's Te Awa Estate to evacuate immediately due to rising flood waters. 
Rescues are still be carried out throughout the eastern region, with some in the Esk Valley still waiting for assistance. 
Hawke's Bay Civil Defence controller Liz Lambert told AM the focus is now on reaching isolated groups to avoid further tragedy.
6:55am – MetService has confirmed all severe weather warnings for the North Island have been lifted.
6:53am – Emergency Management Minister Kieran McAnulty is speaking to AM now. He's confirmed the search for a missing firefighter in Auckland's Muriwai was supended again overnight.
6:45am – Transpower is yet to examine damage to a major substation supplying electricity to the Gisborne and Hawke's Bay regions. 
Dangerous conditions prevented crews from carrying out aerial checks to infrastructure on Tuesday, forcing thousands to spend the night in the dark. 
Transpower chief executive Alison Andrew told Newshub Late it will be a matter of days, if not weeks, before connection fully resumes. 
6:35am – Flights are resuming from Auckland Airport on Wednesday morning after widespread disruption caused by cancelled flights unable to operate in high winds. 
About 50 stranded passengers were taken from the airport to the Trusts Arena evacuation centre in Henderson overnight. 
Auckland Airport has confirmed flight operations have resumed on Wednesday morning.
Speaking to AM, Air New Zealand chief executive Greg Foran said the past couple of days have been busy – with domestic and international flights either forced to turn around or land at another port.
Foran said it could be a messy restart to operations and urged passengers to be patient.
6:30am – There are fears people are still in urgent need of rescue in Hawke's Bay as officials scramble to understand of how widespread Cyclone Gabrielle's impact has been.
Wairoa remains an area of concern, with communication being hampered by network failures. 
Hawke's Bay Civil Defence controller Liz Lambert told AM rescue efforts are ongoing.
6:27am – Auckland Airport says normal operations have resumed on Wednesday morning.
"Travellers are advised that airline schedules may be disrupted for several days as operations gradually return to normal," it said.
"Both international and domestic terminals are expected to be busy as travel resumes. We ask that only passengers with a confirmed booking on a flight scheduled to depart come to the airport.
"We recommend you pack any essential medication and a change of clothes in your carry-on baggage just in case your travel is disrupted midway through your journey."
6:15am – Hawke's Bay Civil Defence has issued an evacuation request to residents of Napier's Te Awa Estate.
"Due to rising flood waters, HB Civil Defence is recommending residents in Te Awa Estate that have not already evacuated to do so now," it said. "This covers Kenny Dr north to Hurunui Dr.
"Please stay with friends and family where possible. Alternatively, the Rodney Green Events Centre is the Napier Civil Defence Centre."
6am – AM will have extensive coverage of Cyclone Gabrielle. You can watch AM on Three and here.
5:45am – The desperate search for a firefighter trapped in a landslide-hit home in west Auckland will resume this morning.
Volunteer firefighter Dave van Zwananberg remains unaccounted for after a building collapsed while officers were inside.
Fire and Emergency halted the search overnight due to the conditions. 
"We are doing everything we can to get our missing firefighter, friend, colleague and loved one back in what is a very challenging operation," Fire and Emergency chief executive Kerry Gregory told Newshub.
"The focus now is on planning for work to restart tomorrow morning with a keen focus on safety given the current conditions at the Muriwai site."
5:20am – A woman in Putorino has died after a bank collapsed onto her home, Hawke's Bay Civil Defence said in a statement on Tuesday night.
Police visited the property following a missing person's report and undertook rescue efforts but were unsuccessful, they said.