Oklahoma City is the capital of the state of Oklahoma where visitors will be able to learn more about the Western Period when cowboys became prevalent. The city houses The National Cowboy and Western Museum both of which feature informative and engaging exhibits.
In Oklahoma City you will find some beautiful attractions that you just cannot miss! Places like Museum Of Osteology, Oklahoma City Zoo And Botanical Garden, and Frontier City and many more. Continue reading to know more.
1. Museum Of Osteology
Museum of Osteology, located in Oklahoma City, is a haven for fossil and archaeology enthusiasts! The museum boasts over 350 completed skeletons of different animals from all over the world. Visitors who are interested in fossils would love the museum for is known for being devoted to the study of bones and skeletons and providing an engaging exhibits that celebrates the beauty of vertebrates.
2. Oklahoma City Zoo And Botanical Garden
The Oklahoma City Zoo and Botanical Garden are a zoo and botanical garden spread over 119 acres in Oklahoma City. The zoo with 1900 animals and is an accredited member of the Association of Zoos and Aquariums and the American Alliance of Museums. The zoo is green with a number of trees making it beautiful to visit.
3. Frontier City
If you are in Oklahoma City do not miss the thrills of rides and fun. Whether you are 6 or 60, you are going to love the rides, the roller coasters or shows and entertainments. Frontier City is a theme park that opened in 1958 in 40 acres of area. Amongst the 6 Flag Parks, Frontier City is the second oldest park.
4. Oklahoma Sports Hall Of Fame
Highlighting the achievements of legendary sports icons such as Jim Thorpe, it also houses some truly unique sports memorabilia and artifacts. It is dedicated to furthering excellence in sports and academics and remains free to the public. Visitors should also check out the Oklahoma Tennis Hall of Fame.
5. Hefner Lake & Park
Nature lovers, sports buffs and hobbyists would all leave this place happy and satisfied. The lake boasts of excellent docking facilities for boating and fishing activities. Outdoorsy types who prefer to stay on dry land can enjoy the lakeside area's trails and playgrounds. Restrooms and picnic areas with grills are available for the convenience of anyone who needs them. Those who want to work up a sweat while indulging their need for competition will enjoy the various sporting facilities that are located here.
6. Wheeler Ferris Wheel
Located in a riverfront plaza in the city's vibrant Wheeler district, this iconic ferris wheel once operated in California's Santa Monica Pier for over 12 years. Providing stunning views of the Downtown Oklahoma City skyline, this wheel is one of the most popular attractions in the city.
7. National Cowboy And Western Heritage Museum
The National Cowboy & Western Heritage Museum is a museum for the preservation and exhibition of western arts and artifacts. Founded in 1955, the museum has a collection of 28000 western and American Indian artworks and relics. The largest collection of pictures, trophies and equipment used by the American rodeos are at the museum. Museum also sponsors research and education programs on American Western culture.
8. Bet On The Stakes At Remington Park
Built in 1988, Remington Park is a Horseracing track and a casino in Oklahoma City, Oklahoma. The various horseracing seasons featured at Remington Park are America Quarter Horse, Appaloosa and Thoroughbred Season. It is complete entertainment with the thrill of racing, casino and betting with the best food.
9. Oklahoma City National Memorial
The Oklahoma City National Memorial was built to honor the victims, survivors, rescuers and people of Oklahoma who were affected by the bombing of the Alfred P. Murrah Federal Building on 19th April 1995. President Bill Clinton authorized it as a national memorial on October 9, 1997. The 3.3-acre outdoor memorial has several monuments and landscaped green areas for visitors to spend time.
10. 45Th Infantry Division Museum
During World War II, the 45th Infantry was one of the first National Guard units to be activated. They were stationed from the French coastlines to Berlin, freeing Dachau along the way. They then fought in the atrocious Korean War. The 45th Infantry Museum acknowledges the service of all citizens of Oklahoma not only those who served in the 45th infantry. Today, the museum houses an incredible collection of military relics.
11. Oklahoma State Capitol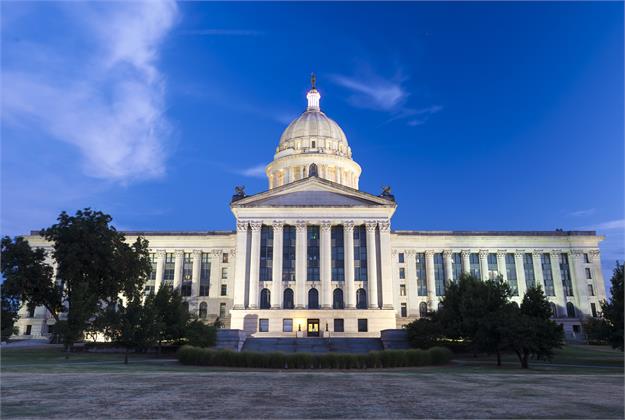 Built between 1914 and 1917, this state capitol complex uses white limestone and Oklahoma pink granite in its construction. It is notable for being the only US state capitol complex with active oil rigs. The building also houses a cafeteria and a museum.
12. Bricktown
The look of this place is industrial and chic. Known for its vibrant entertainment, the area has pubs, piano lounges, and trendy wine bars housed in repurposed factory spaces. Clothing, home decor, and premium food products such as gourmet condiments and artisan chocolate are sold in an eclectic mix of stores.
13. Chickasaw Bricktown Ballpark
First opened in 1998, this open air stadium houses wonderful seats and offers great viewing areas. It also serves as home to the renowned baseball team, Oklahoma City Dodgers. Apart from hosting the season's baseball games, it also hosts the Phillips 66 Big 12 Baseball Tournament.
14. Science Museum Oklahoma
The science museum of Oklahoma is a popular destination for locals as well as tourists to explore science and discoveries with fun. The planetarium at the museum helps visitors to go on a journey to space and watch the original images and videos from NASA. Several workshops for children are held throughout the year in the museum.
Book affordable flights to Oklahoma City now!