Cyclone Gabrielle has weakened and moved away from New Zealand, as the country continues the recovery effort from the storm that's left seven people dead and displaced thousands.
And officials aren't ruling out further fatalities in the hardest hit areas of the country. 
The mammoth rescue and recovery effort is ongoing in Tairāwhiti and Hawke's Bay. However, thousands of people remain unaccounted for. 
Official Government advice:
Put safety first. Don't take any chances. Act quickly if you see rising water. Floods and flash floods can happen quickly. If you see rising water do not wait for official warnings. Head for higher ground and stay away from floodwater.
Do not try to walk, play, swim, or drive in floodwater: even water just 15 centimetres deep can sweep you off your feet, and half a metre of water will carry away most vehicles.
If you have evacuated, please stay where you are until you are given the all-clear to go home.
If you don't need to evacuate, support those who do by staying home, staying off roads and staying safe. 
If you are not able to contact your whānau in heavily affected areas go to Police 105 website and complete the inquiry form or phone 105 and remember to update if you reconnect through other means.
Throw away food and drinking water that has come into contact with floodwater as it is often contaminated and can make you sick.
If you are without power eat the food from your fridge first, then your freezer. Then eat the food in the cupboard or your emergency kit.
People should stay up to date with the forecasts from MetService and continue to follow the advice of civil defence and emergency services.
A National State of Emergency is in place for an initial period of seven days and applies to regions that have declared a local State of Emergency.
What else you need to know:
A national state of emergency remains in place
Tens of thousands of people across the Far North, Northland, Auckland, Gisborne and Hawke's Bay are without power. Civil Defence says it could be "up to a week" before power is fully restored in Hawke's Bay
Residents in Gisborne and parts of central Hawke's Bay are being told to urgently conserve water
Nine-thousand people are displaced in Hawke's Bay alone, the Government says.
Useful websites:
Civil Defence centres and shelters are open in Auckland. A list of where they are is here.
If you need help and support during the emergency, visit the Auckland Emergency Management website.
For a list of disruptions to services and facilities, visit the Interruptions to Service and Facilities page on the Auckland Council website
For the latest on MetService's weather warnings, click here
For more information on power outages in Auckland check here: Vector – https://help.vector.co.nz/map, Counties Energy – http://app.countiespower.com
For power in Northland click here or the Far North click here
For public transport information visit Auckland Transport here
For nationwide road and travel updates visit here
To register a person who you have safety concerns for click here.
Follow live updates below. App users – click here for the latest.
11:51am – Police have confirmed a seventh death related to Cyclone Gabrielle.
Police say they are investigating a death in Waiohiki, near Napier, who is believed to have died after being caught in flood water.
A police spokesperson said formal identification is yet to take place.
11:48am – Muriwai residents living on Domain Cres have been advised by Auckland Emergency Management to evacuate immediately.
11:29am – Newshub Live at 11:30am will have the latest on the Gisborne water emergency. You can watch the bulletin in the video above.
11:10am – Gisborne has been issued an immediate stop water notice after its water treatment plant failed, according to MP for East Coast Kiri Allan.
Tairāwhiti Civil Defence said, "this is a major crisis our city has no water. Don't turn your tap on".
"We are not getting any water into the city's reservoirs. Stop now."
In an emergency alert sent to residents, the council said "timing for repairs [is] unknown".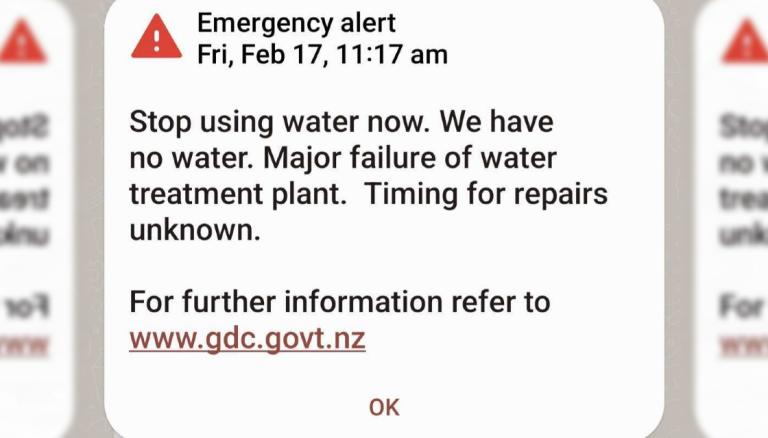 It comes after the Gisborne District Council said the region's water situation is "critical".
11:03am – In some better news, Transpower says it will bypass the flooded substation near Taradale this evening. 
In a statement, Transpower said the Redclyffe substation suffered "extensive damage" following Cyclone Gabrielle. 
"Transpower has been working with Unison Networks to create a bypass for the 220KV high voltage line to enable it to connect to the Whakatu substation north-east of Hastings."
Transpower said once the bypass is complete, lines company Unison Networks will begin to restore power to "some but not all homes and businesses in Hawke's Bay… Including urban parts of Napier and some remaining areas of Hastings such as Clive, Te Awanga and Whakatu. This work is expected to take place from Saturday", Transpower said. 
Transpower's full statement:
"We have also continued to increase the amount of power available to local lines companies in the Hawke's Bay and Tairāwhiti in the wake of Cyclone Gabrielle, with 104MW of power now available across the region (enough to power around 104,000 homes). We are grateful to Genesis Energy for providing additional generation and technical support at Tuai to achieve this."
"Unison Networks advises there are 37,400 homes and businesses without power in Hawke's Bay, with 31,630 of these from Napier which is the area most impacted by the loss of the Redclyffe substation."
"Eastland Network advises there are 4,500 homes and businesses without power in Tairāwhiti, including more than 1,600 in Wairoa."
"There continue to be logistical challenges in restoring power in the region as a result of damage to roading, significant debris and damaged communications networks. We are grateful to all those throughout the electricity industry who have worked together through these challenges to get this bypass in place."
"The industry has also worked hard to support local lines companies in other parts of the country such as Northland, Auckland, Waikato and the Coromandel where there are still power outages as a result of damage to local lines company infrastructure. The national transmission grid is fully operational in those areas."
"Our thoughts continue to be with all those who have been impacted by Cyclone Gabrielle and are further impacted by the loss of power."
"We assure them that our people, our service providers, local lines companies and others in the industry continue to work tirelessly to get as much power restored into the area as quickly as possible."
10:21am – A long line of traffic has built along State Highway 2 between Napier and Hastings.
Images show cars bumper to bumper for as far as the eye can see.
10:11am – Tairāwhiti Civil Defence says "power is back on for most people".
In a Facebook post, Eastland Network said it had restored 2100 customers without power on Friday morning, including 1000 in Wairoa.
Tairāwhiti Civil Defence said the internet is out for most residents in the region, but Chorus has made "good progress" in identifying issues.
It added a Starlink wifi station has been set up at Lawson Field Theatre for residents to use between 8am and 8pm. 
9:25am – Napier Port has set up a temporary morgue as the Art Deco city comes to terms with the devastating impacts of Cyclone Gabrielle.
Napier Port's chief executive Todd Dawson told Stuff the temporary morgue is to help with the response to the catastrophic flooding.
"The army and police are set up at the port and part of that is a temporary mortuary," he said.
Dawson added the port, based in Ahuriri, was asked by New Zealand Defence Force and police to provide support because the port was mostly unscathed by Cyclone Gabrielle.
He told Stuff the port had backup generators and refrigeration.
9:10am – Cyclone Gabrielle has reportedly claimed a seventh life. Stuff reports a man's body was found in Waiohiki in Hawke's Bay on Thursday. 
The man is believed to be in his 70s.
8:51am – MetService says Aotearoa is in line for a string of much-needed settled weather as Cyclone Gabrielle move off our shores.
A satellite image shows "plenty of green" which means "plenty of blue skies from the ground", the forecaster says.
8:10am – The Gisborne District Council says residents have failed to conserve after Cyclone Gabrielle destroyed its water network.
The council says the water situation in the region remains "critical" and the reality of the taps running dry "looms large".
Tairāwhiti Civil Defence controller Ben Green says it is "vital" residents conserve water as the city's reserve supply is "critically low".
"Despite warnings to save water we're still using more than we can make available. Unless we reduce our use scheduled shut-off periods will have to be implemented," Green said.
"That sounds tough but the alternative is worse."
7:50am – Minister for Immigration Michael Wood says he's sought urgent advice to guarantee Aotearoa has the workforce to build back from Cyclone Gabrielle.
"We are going to have a rebuild across a number of regions. It's going to be people, it's going to be plant, it's going to be expertise. It will be a whole of Government effort to make sure we do what needs to be done."
Wood told AM the Government will "pull every lever we possibly can" to ensure a strong rebuild for many devastated communities.
"New Zealand can have our absolute commitment, that's what we'll do."
National Immigration spokesperson Erica Stanford says before Cyclone Gabrielle Aotearoa was already in dire need of workers. 
She says Cyclone Gabrielle has only exacerbated the need and is calling for the Government to cut "the bureaucratic tape".
"We need to rely on something that already exists like a special purpose visa. Which is a three-year visa. You don't need a job token, we don't need to do a job check, we don't need to have employers being accredited. Cut all that out."
And Wood agreed but is awaiting advice from officials.
"People can be rest assured we will use every tool and pull every lever to support the rebuild."
7:24am – Agriculture Minister Damien O'Connor will travel to Northland on Friday to meet farmers and growers devastated by Cyclone Gabrielle.
O'Connor will the visit Whangārei and Dargaville regions.
7:15am – Speaking to AM, East Coast MP Kiri Allan says the opening of SH2 allowed 20 trucks loaded with food to enter the region.
Allan said the widespread damage across Gisborne is incomprehensible, and as she's surveyed the damage, she told AM the scenes have taken a toll on her spirit.
The East Coast-based MP says she is eager to get further up the coast, adding she's heard from some whānau and friends, but not all.
She added rescue helicopter teams have flown into almost every rural home over the past two days to provide medication, updates and communication.
"Some people were just stoked to see human beings outside of their own family."
6:45am – Gisborne Mayor Rehette Stoltz says SH2 north of the city will open to the public on Saturday or Sunday.
"That's great news so people can plan to get in and out," she told AM. 
Stoltz says "things are starting to look up a bit" for the region with critical supplies being brought into Gisborne by convoy.
"At this stage what we're looking for are the real basics. So it is water, we are also receiving Starlinks and satellite communication. So it's all those basics that we need here."
She said two convoys came through the region on Thursday and another is expected on Friday morning.  
Stoltz told AM while communication is limited, "heartbreaking" stories are already emerging of residents doing it tough.
"As we connect up more and more today I'm sure we will hear more of those stories of people."
6:30am – An already sodden Gisborne was hit by heavy rain overnight. Newshub reporter Alice Wilkins is in Gisborne and told AM the rain has passed, but it was an unwelcome sight for residents.
"So far today we are looking OK early on, but there will be a real sense of concern and worry for anyone around here who already has damage to their properties and already has slips."
6:15am – Power remains out in Napier and Civil Defence have confirmed it will remain that way "for a period of time".
"Be prepared for no power for an extended period of time."
The lack of power is only just one issue the region is facing, Civil Defence says they are battling misinformation around road closures, washed-out bridges and trapped people.
AM host Ryan Bridge told AM Civil Defence is urging people to only follow official channels for official advice.
6am – The Napier-Hastings Expressway (State Highway 2) on Thursday night reopened for emergency services and essential travel only.
"Both north and south bound lanes will be opened. [The] SH51 link between Napier and Hastings is also open for emergency service vehicles and workers only," Hawke's Bay Civil Defence said.
5:45am – Below is MetService's short forecast for Friday:
The upper North Island from Taumarunui and Taupō northwards including Gisborne and Hawke's Bay
Scattered showers south of Hamilton clearing on Friday morning and becoming mostly fine throughout. However, isolated showers persist about the Northland, Hawke's Bay and Gisborne coasts.
Remaining North Island areas
A few showers, mainly Wellington and Wairarapa, but fine spells increasing.
Marlborough and Canterbury
Cloudy periods and isolated showers.
Nelson and Buller
Mainly fine. Isolated showers about the ranges from afternoon, then becoming cloudy on Friday evening.
Westland and Fiordland
Mainly fine. Isolated showers about the Westland ranges on Friday afternoon and evening.
Southland and Otago
Fine in central Otago. Cloudy with light showers elsewhere, then fine breaks developing late morning.
Chatham Islands
Low cloud and occasional drizzle, becoming showers from afternoon.
5:30am – Prime Minister Chris Hipkins is set to travel to flood-stricken Hawke's Bay on Friday. 
Hipkins will meet with impacted residents, volunteers on the ground and local officials. 
He'll also get a first hand look at some of the hardest hit areas. 
Gisborne District Mayor Rehette Stoltz has said having Hipkins in Tairāwhiti on Thursday was a huge help.
5:15am – The firefighter who was rescued from a collapsed house in Auckland's Muriwai earlier this week has died from his injuries.
Craig Stevens was rescued after he and another firefighter, Dave van Zwanenberg, became trapped in a slip while investigating flooding at a house on Motutara Rd. Van Zwanenberg was also killed in the slip.
On Thursday night, Fire and Emergency New Zealand confirmed Stevens had died in hospital.
"All of Fire and Emergency will feel his loss, and my heart goes out to his family," chief executive Kerry Gregory said in a statement.