Of course, the elder Busch brother would much rather be out on track competing in this year's 500.
As fate would have it though, a qualifying crash last summer at Pocono Raceway changed his career path, forcing him to the sidelines with a concussion. He was unable to get back behind the wheel of the race car, and was ultimately replaced by Tyler Reddick for the 2023 season. 
However, should he be cleared to race, 23XI co-owner Denny Hamlin has said that there will be a third car waiting for him. Travis Pastrana is driving that entry in this weekend's Daytona 500, making his Cup debut.
Busch, 44, won the 500 back in 2017. This month, he is at the track lending his years of racing expertise to his younger teammates.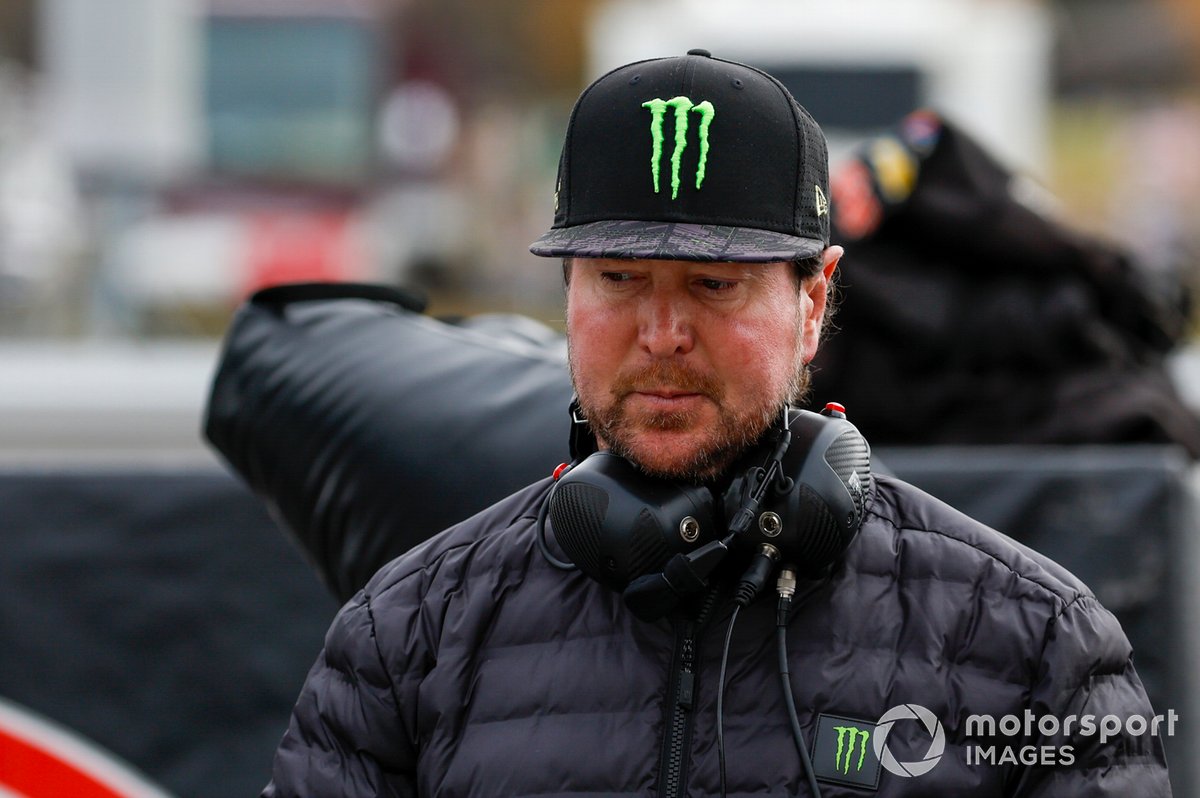 Kurt Busch, 23XI Racing, Monster Energy Toyota Camry
Photo by: David Rosenblum / NKP / Motorsport Images
"There was a moment last night with Tyler Reddick trying to learn how to draft with Denny Hamlin, who's his boss," said Busch. "I saw it and thought, I went through that last year in this race. Our debrief right after the race, it's the thing I did last year with Bubba (Wallace), it's to advance quicker and to advance smarter and to apply the right things to make sure that 23XI is going in the right direction. I'm not doing it by myself. I'm just an extra set of eyes and an extra set of ears.
"I'm pretending sometimes that I have the blinders on and I'm driving the car. I think you can see with Bubba's maturity level last year in the second half, other than Vegas when he screwed up, but the way that he took control and had good average finishes last year, his average finishes he had in the second half were better than the average finishes I had in the first half and we put a car in the top-10 in his first season. Those were things that happened at Furniture Row and we saw how they advanced. That's just what I hope to do with this team and have Tyler Reddick on the gas digging hard and add to his three wins that he got last year."
Busch was not ready to exit the race car, but he finds enjoyment in his current role with the team. It's weirdly familiar, except for the fact that he's no longer racing on Sundays. Mentoring younger teammates is something he's been doing for a long time.
"Everything just happened a year sooner than I expected them to and I'm happy with where everything sits," he explained. "Even like Ty Gibbs, with him jumping in the Monster Energy car last year and getting him up to speed in the Cup Series, Monster Energy always told me to out my arm around him because he was going to be the one for us later on. With things being fast-forwarded and now with it being the second week of being here at track in Daytona, we did the Coliseum last week. There's no question where my role is with the team, it's everywhere with the team. And doing different interviews with the team and with our other sponsors. I'm doing everything the same, but not putting a helmet on and instead putting a radio on for practice, qualifying and the race."
Read Also:NASCAR Next Gen car gets safety upgrades for 2023 season
Busch wasn't the only driver to suffer a concussion last year. Alex Bowman missed a handful of races after a similar rear-end impact at Texas Motor Speedway, but the 29-year-old was healthy enough to return for the season finale.
Speaking on his recovery, Busch told the assembled media that he's "doing well." 
He added: "Everyday life is normal. When I do my workouts with the physical therapist, we switch them up a little bit now onto a balance type of pad and it helps with creating core strength and it helps with my movements that I have to do and it's fatiguing. I notice things that bring me up and then break me down when I have to do a day on and a day off now. Where I was pushing seven days a week to try to get back to the car and then in all honesty, I took December off. It was an emotional time and that was part of this process as well. But I'm doing well.
And most of all, he's keeping busy. Not only is he working as a consultant for 23XI, but he remains a brand ambassador for Monster Energy. He's also working closely with Toyota, showing them "another side of a Busch that they hadn't seen before." 
Kurt Busch, 23XI Racing, Jordan Brand Toyota Camry
Photo by: Matthew T. Thacker / NKP / Motorsport Images
Busch and his doctors believe that he could race again, but he admits to not yet being 100% fit to get back behind the wheel at this level of competition. 
"They believe it, I believe it. I just know that right here, I'm not 100 percent to race with these guys, the best of the best here at this level. Could I go do a SCCA club race next week? It's probably not wise. Go-karting has been fine for me, the simulator has been fine, it's just when I had my head in the headrest and there's that movement, that's bothers me. And then with the progress that I've made, progress since August, yes. I do believe there will be a full recovery and the new physical therapy I'm on is another challenge and a lot of it is with the balance and eye movement."
But is there a point where Busch wouldn't bother returning to Cup Series competition, even if he were cleared?
"That's the thing, life moves forward," he said. "Contracts happen. This is a big-time sport and there's eight figures these days for sponsorship money. Those don't just fall out of the sky. I've got a great relationship with Monster Energy and with Toyota and that's why you see me here at the track, pushing hard and doing everything the same as I would be if I was racing. There's a big announcement next week with Tyler Reddick at the Monster Energy headquarters, there's a video today with Ty Gibbs. There's a lot of fun stuff going on. Once there's that green light, then there's the chance to open the door for discussions so it's a process. Can't push one before the other."
Wallace, who was the 2022 Daytona 500 runner-up, will start 15th on Sunday. Reddick will start 26th, and Pastrana bringing up the rear of the field in 40th.