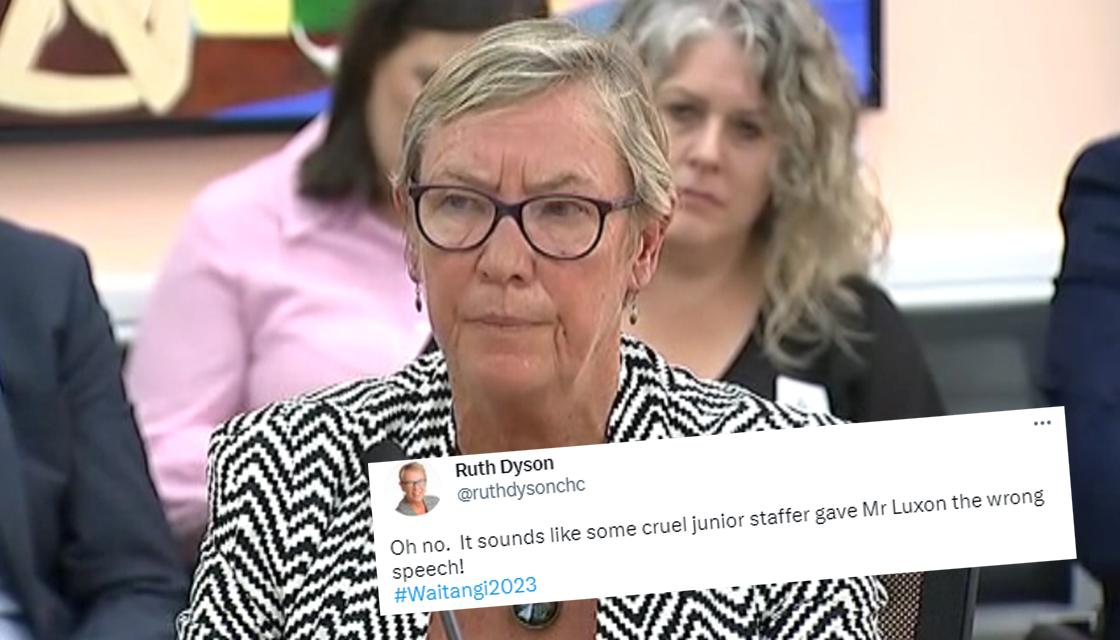 Ruth Dyson, the deputy chair of the Earthquake Commission and Fire and Emergency New Zealand (FENZ), will review her social media use after concern was raised about the political nature of some tweets.
She's also admitted she hasn't read the code of conduct, which includes a section on being politically impartial.
Dyson, a former Labour MP, regularly shares tweets promoting the Labour Party and candidates. She's also taken a dig at National leader Christopher Luxon. 
"Oh no.  It sounds like some cruel junior staffer gave Mr Luxon the wrong speech! #Waitangi2023," she wrote last month.
Dyson appeared before the Governance and Administration Select Committee on Wednesday morning in her FENZ role.
National public service spokesperson Simeon Brown asked her if she had been acting with politically impartiality in the role.
She responded by saying she had been reflecting on her remarks after Te Whatu Ora chair Rob Campbell was sacked for political comments he made.
"I will be reviewing my social media content particularly… but at the moment I haven't done that."
Brown asked if she believed her tweet about Luxon was politically impartial.
"As I said, I'm prepared to review all my social media engagement and reflect on whether it meets the standard. I haven't done that yet."
She hasn't raised it with the responsible minister. She wouldn't do that before reviewing the content, Dyson said.
"I would do nothing to damage the integrity of Fire and Emergency New Zealand. It's an organisation that I care about very deeply and I'm committed to supporting and working hard for. But I get the point of your questioning."
Brown asked if it was right for Dyson to have in her Twitter biography that she is "still Labour". 
"It's absolutely appropriate to say that I was a former Labour Member of Parliament and just to make it clear, I'm still Labour. That does not affect my ability to be politically neutral when engaged in board activities."
Speaking to media after the Select Committee, Dyson said: "You are entitled to have political opinions, it's how they're expressed that's the issue".
She said it was "a good suggestion" that she should have gone through her social media before taking the FENZ role.
She wouldn't say "off the top of my head" if guidance about political neutrality was clear before the Campbell controversy.
"I would be really happy to read through the guidance we were given and see if they were clear enough. The induction days are pretty rigorous for a board. There is a lot that you get told. That's not a big part of it."
She then admitted she hasn't read the code of conduct, which includes a section on political impartiality.
"I didn't think of it."
Asked if she signed the code of conduct, Dyson said she doesn't think "that's a process that board members go through."
She then said she doesn't wish she read it and walked off, calling the questioning "silly".
It follows the sacking of Campbell for political comments he made about the National Party. Ministers are also currently considering advice about political columns Pharmac chair Steve Maharey wrote.
Public servants are required to be politically impartial under the code of conduct that applies to Crown entities board members.
"We act in a politically impartial manner. Irrespective of our political interests, we conduct ourselves in a way that enables us to act effectively under current and future governments," the code of conduct for Crown Entity board members says. 
"We do not make political statements or engage in political activity in relation to the functions of the Crown entity.
"When acting in our private capacity, we avoid any political activity that could jeopardise our ability to perform our role or which could erode the public's trust in the entity. We discuss with the Chair any proposal to make political comment or to undertake any significant political activity."
Appearing before the Select Committee earlier, Public Services Commissioner Peter Hughes said he was unaware of the tweets from Dyson. 
"I will check when I go back whether any of my officials are aware of that," Hughes said. 
He told Brown to write to him about Dyson's comments if they concerned him.
Hughes said he has provided advice to Minister for the Public Service Andrew Little about Maharey, who criticised the National Party in a number of newspaper columns.
He wouldn't say what that advice was as it is under "active consideration" by the minister. But he will release it publicly at a later time, possibly later on Wednesday.
"Legislation does require due process here, that is an obligation on me and I would not be meeting that obligation [by discussing the advice now]. I will release the advice publicly. It will be a matter of public record."
National has called for Maharey to resign after it emerged he made political comments in a series of newspaper columns. That's despite public servants needing to remain politically impartial.
Health Minister Dr Ayesha Verrall, who is responsible for Maharey as Pharmac chair, on Tuesday said he had offered up his resignation, but she retained confidence in him and was waiting on advice from the Public Service Commission.