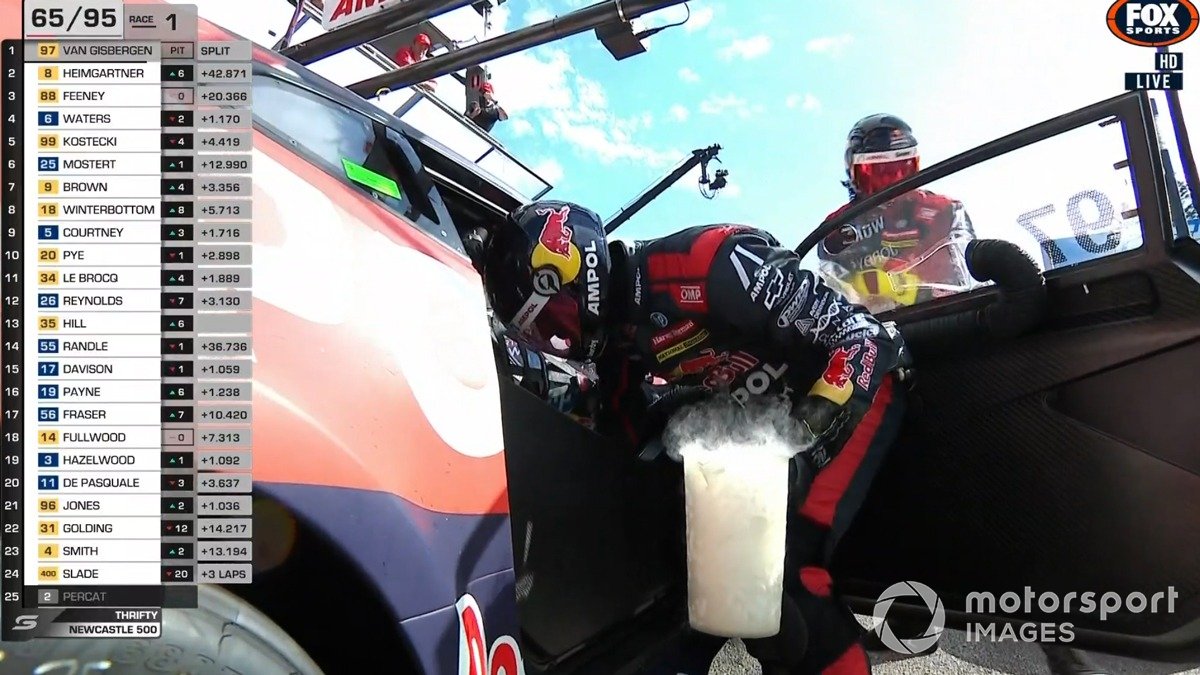 Rivals Tickford Racing and Walkinshaw Andretti United protested the two Red Bull-backed Camaros following their one-two finish in the season opener yesterday.
The protest was based on a potentially illegal driver cooling system, which came to light when TV cameras spotted dry ice being filled in the driver's side door during stops.
Driver cooling systems are required by the rules to be mounted to the passenger side of the car.
The system is related to helmet cooling, which isn't included as part of the electric Chill Out system used by Triple Eight.
A hearing was held last night with Motorsport Australia handing down its decision this morning.
"Motorsport Australia stewards have handed down their decision regarding cars #88 and #97 following the opening Supercars race at the Newcastle 500," read the stewards statement.
"The decision was released on Sunday morning, following separate protests from Tickford Racing and Walkinshaw Andretti United and a Saturday evening Stewards' Hearing.
"The deputy race directors also alleged a technical breach of C16.2 regarding the driver cooling system.
"With deliberations now complete, stewards have confirmed both Triple Eight cars have been disqualified from Race 1 of the Newcastle 500."
Triple Eight has since appealed the decision and is arguing that permission had been sought, and verbally given, for the system by Supercars Head of Motorsport Adrian Burgess.
Cabin heat has been a prevalent issue with the new Gen3 cars in Newcastle, with Shane van Gisbergen leading calls for better heat shielding, which was implemented, on Friday night.
Will Brown and David Reynolds, meanwhile, were among the drivers to struggle with heat during yesterday's race.
Van Gisbergen was also late to the podium which he later attributed to heat exhaustion.
The exclusion of the T8 cars means Cameron Waters is the winner of the opening race of the Gen3 era ahead of Chaz Mostert and Brodie Kostecki.