Scott Robertson has been riding a wave of emotions since being named the All Blacks coach elect, the most prominent of which – right alongside the obvious – has been relief.
On Tuesday, NZ Rugby ended months of speculation by confirming Robertson's widely expected appointment as Ian Foster's successor after the upcoming World Cup in France.
Of course, his family were the first to hear the good news, although his dad Maurice took some convincing that his son had in fact secured the role.
"I had to say to dad three times 'I've got the job'," Robertson recalled, bellowing with laughter.
Dad still wouldn't buy it. He hadn't read it in the newspaper yet.
"I haven't done any media yet," replied Robertson, who was en route to his press conference 
"'Are you sure?' [he asked]. 'Yes dad, I am'.
"There was a lot of confirmation. It was an entertaining phone call."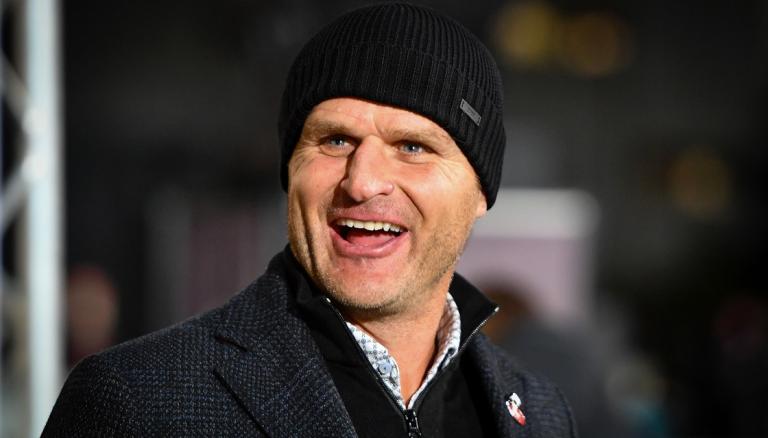 Less than 24 hours after being appointed, Robertson was back at Crusaders headquarters early Wednesday morning to lead his team's preparations for their blockbuster clash with the Brumbies this weekend.
Robertson admitted his momentous Tuesday had left him "shattered". He came home to some "big cuddles" with his family and went straight to bed.
Having had time to reflect, he confessed to a sense of freedom, after the weight of the entire procedure had been lifted from his shoulders.
"There was excitement but also relief," Robertson said.
"My whole mindset for the interview was just being really calm and clear and get who I was across, being really authentic about how I thought I could add to the All Blacks jersey.
"It was a really professional process. Really robust, really clear and we've done it so both parties can now go on and get on with it.
"I've got my Crusaders gear on now and I'm looking forward to today and seeing the boys."
Wife Jane had been equally relieved that she wouldn't have to pack her bags to join her husband abroad, he added, indicating there were no shortage of contingency options for the in-demand coach had he been overlooked.
The Crusaders organisation, led by chief executive Colin Mansbridge, had been hugely supportive throughout the procedure, which Robertson said helped avoid any impact on his day-to-day responsibilities with the red and blacks steering their title defence.
"I'm good at compartmentalising things. So, when Ive got to deal with it, I'll deal with it," he explained.
"I just wanted to be really present here with the Crusaders and make sure I do my job here.
"I was really open about it. I said after the game [against the Blues] 'look I've got an All Blacks interview on the Monday' and a couple of them already knew.
"Awesome support. They said 'we're right behind you and we'd love you to get the job', so I just feel like I can be myself and get on with it."
Mansbridge said there were plenty lot of tears of joy shed at the Crusaders' homebase during the press conference for Robertson's announcement, adding there will be no rush in naming a successor to fill 'Razor's' sizeable shoes.
"We've had a few yarns with people, and we'll keep those going," he said.
Former Tasman coach Andrew Goodman – now with Irish heavyweights Leinster – is considered one of the leading candidates, as is current Crusaders assistant Scott Hansen, although much will depend on who Robertson decides to bring into his All Blacks set-up.
Since the start of the application process, Robertson said he'd been completely upfront with his players and that his message now would be equally simple and direct.
"It will be really clear – thanks for the support and let's get on with it. It's done now, let's go get it and have some fun along the way."