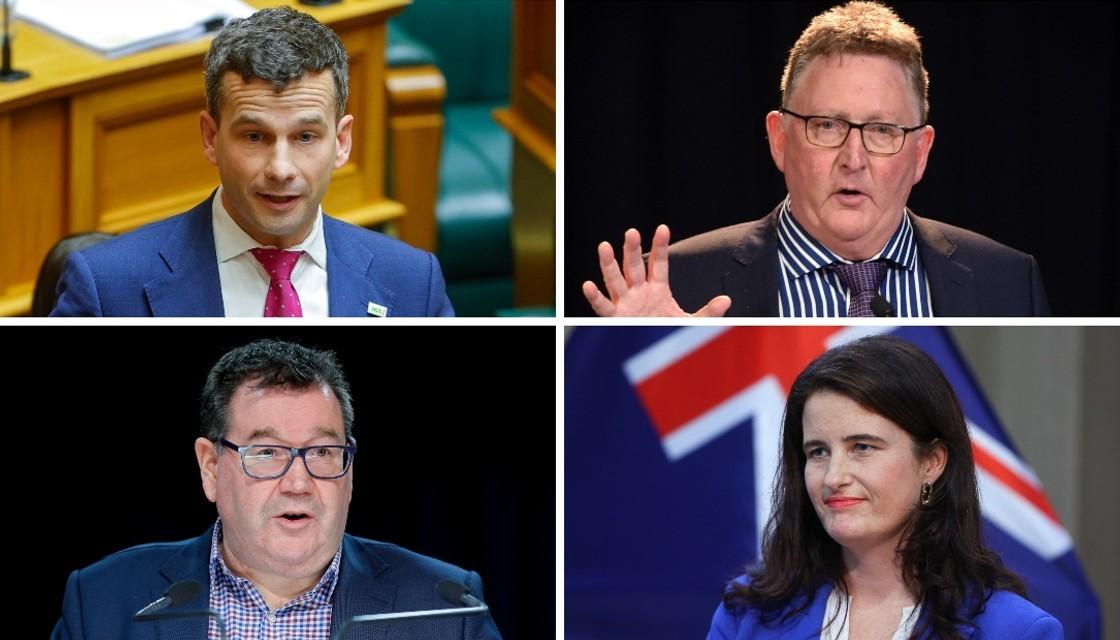 National has described the "shock" 50 basis point increase to the Official Cash Rate (OCR) as a "punch in the guts" for Kiwis, while the Greens are reiterating their call for a wealth tax.
The Reserve Bank on Wednesday hiked the OCR to 5.25 percent, a 50 basis point rise. That is the 11th consecutive increase and means the OCR is now at its highest point since December 2008. 
Increasing the OCR is a key mechanism the RBNZ has to dampen demand in the economy and therefore lower inflation. The RBNZ has a target of keeping inflation between 1 and 3 percent. But inflation remains stubbornly high, with annual inflation at 7.2 percent in December.
The hike to the OCR on Wednesday was higher than the 25 basis point jump widely anticipated by economists and banks. It also contrasts with the actions this week of the Reserve Bank of Australia, which halted increases at 3.6 percent. 
The RBNZ said the severe weather events across the North Island recently have led to higher prices and "increases the risk that inflation expectations persist above our target range.  
"Over the medium term, the Committee anticipates economic activity to be supported by rebuilding efforts in the aftermath of the weather events. The demand on resources is expected to add to inflation pressure by more than assumed in the February Monetary Policy Statement."
The RBNZ considered both 25 and 50 basis point increases. While it's comfortable that current lending rates for businesses and households will ensure core inflation begins to moderate, wholesale interest rates have fallen since its last meeting. 
"This could put downward pressure on lending rates. As a result, a 50 basis point increase in the OCR was seen as helping to maintain the current lending rates faced by businesses and households, while also supporting an increase in retail deposit rates."
National's finance spokesperson Nicola Willis called the 50 basis point jump a "shock" move that would mean "far more pain for New Zealand families". 
"Mortgage holders up and down the country were holding their breath and hoping for some relief. Instead, they've been given another punch in the guts," Willis said.
She expects the speed of the hikes will leave many "scrambling" to find more money to pay off their mortgages. 
"Sadly, for too many Kiwis this will be the punch that sends them off the edge, into mortgage arrears, unwanted house sales and financial distress," she said. 
One of National's proposals is to narrow the Reserve Bank's focus to just keeping inflation within the target band. 
The Green Party continues to advocate for a wealth tax to "reduce inflation" instead of just relying on hiking the OCR. 
"Economists estimate over-reliance on unconventional monetary policy throughout COVID-19 resulted in a huge transfer of wealth to some of the richest in Aotearoa," said Green Party revenue spokesperson, Chlöe Swarbrick.
"Now, conventional monetary policy tools are being used to bake in that inequality. Worse than that, RBNZ Governor Adrian Orr admitted in response to my questioning that these actions were intended to engineer a recession."
She said the Government is unwilling to use tools available to it to bring inflation down. 
"If we taxed wealth, this money could then be used to support people to help make ends meet," Swarbrick said. 
"Only the Greens have continued to fight for these common-sense, fair policy interventions. Business as usual wasn't working before the pandemic, and it is in tatters now."
The ACT Party said the OCR means pain for mortgage holders.
"Over half of mortgagees will re-fix their mortgage this year," leader David Seymour 
"The average mortgagee who fixed for two years in April 2021 and is looking to fix for another two years will be paying another $318 per week. Someone in Auckland, where mortgages are higher, is looking at another $399 per week.
"Mortgages are just one aspect of the economic pain that is coming. Something has to break if the reserve bank continues with these hikes and the next thing will be job losses. There are already job losses occurring at an increasing rate, in the last week Today FM, Sky, Xero have all shed hundreds of employees and the Reserve Bank is predicting another 66,000 job losses across the next two years."
In the House, National leader Christopher Luxon asked the Prime Minister why inflation projections for New Zealand remain higher than other countries and how he could justify extra Government spending. 
Chris Hipkins said New Zealand's economy isn't identical to other countries around the world and if Luxon believes the way to reduce inflation is by cutting Government spending, National should be upfront about what spending it would cut if it was elected into Government. 
"The sorts of levels of reduction in Government spending required to make a meaningful impact on the rate of inflation we have would be would have catastrophic consequences to Hipkins also argued that tax cuts proposed by National would be inflationary."
National has said it would reduce consultancy spending and end big Government projects, like Three Waters. But it's unclear this would be enough to pay for its tax proposals. 
Finance Minister Grant Robertson said in Parliament that he stood by his comment that 2023 would be a "tough" year for New Zealand families. He said the Government is taking actions to support Kiwis – benefits, Superannuation, and other supports were increased on Saturday.
"Many New Zealand families will, depending on their circumstances, have to find more money to meet their mortgage," he said.
"The way in which a government can support them through that is to support them just as we have done by supporting, particularly those on low and middle incomes, to be able to actually make ends meet."
With regards to whether it's time for a wealth tax, Robertson said discussions about tax policy will come closer to the election. Other than introducing the 39 percent tax threshold, the Government's promised to introduce no new taxes this term.