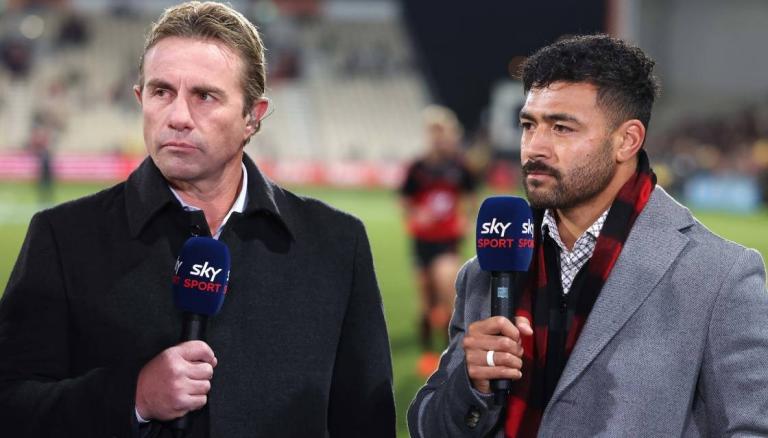 Former All Blacks captain Justin Marshall reportedly will not be on the Sky Sport commentary team travelling to France for this year's Rugby World Cup.
The 81-game international halfback has often been a polarising presence in game coverage, with his enthusiastic catchphrases and insightful analysis, but NZME reports he has lost out to former teammates Jeff Wilson and Mils Muliaina, along with veteran gamecaller Grant Nisbett and rugby report Kirstie Stanway.
"The four of them make up an excellent and highly versatile team, and they will be working very hard for us across the tournament," Sky chief corporate affairs officer Chis Major told NZME.
"I don't have any comment to make on any individuals who are not in the team, other than to say that we have a number of superb commentators on our Sky team – along with world-class first-voice callers – but not everyone can go on these trips.
"It's always a difficult decision, but we're really pleased with the team who are going and are looking forward to their contribution."
Marshall, 49, attended two World Cups over a 10-year All Blacks career and has been part of the Sky commentary team since 2010, when he hung up his boots as a player.
His tenure hit a bump in the road last July, when he confronted All Blacks players – principally loose forward Akira Ioane – after their historic series loss to Ireland at Wellington and has been highly critical of their performances throughout 2022.
Along with their two home defeats to the Irish, the NZ men also fell to Argentina on home soil for the first time, but managed to defend the Bledisloe Cup and Rugby Championship crown, before embarking on an unbeaten northern hemisphere tour.
"I certainly feel that that record this year is not adequate," he told The Platform. "It's not up to All Black standard.
"Of course, creating history in a negative aspect never sits comfortably. Losing to Ireland for the first time on our own shores in a test series and a test match, losing to Argentina for the first time on our own shores has damaged the jersey.
"If anybody wants to sit down in an argument with me about that, then good luck to them, because I know what it's like to carry the legacy of All Blacks gone in the past and these guys have let the jersey down, because they've created history in the wrong way."