We've all been there – frantically tipping suitcase contents onto an airport bench, desperately trying to rearrange items to avoid going over the airline baggage allowance.
"Maybe I should just wear all my clothes at once," you ponder, as you weigh up the inconvenience of layering four sweaters on a crowded plane over the cost of shelling out extra for your overweight bag.
That's where packing expert Chelsea Dickenson steps in.
"You can absolutely pack smaller than you think, I promise you, you can," Dickenson tells CNN Travel.
"And I'm going to go out there and say that it will make your holiday better."
Dickenson, a 33-year-old traveller from the UK, founded the website Cheap Holiday Expert to provide tips and tricks for budget-friendly vacations.
As a frequent flyer, Dickenson prides herself on travelling light. And if she ends up short on space, she's good at coming up with unexpected solutions.
Take, for example, Dickenson's viral fishing vest packing hack, in which she travels with a multi-pocketed, zip-up vest designed for fishing equipment.
On a recent EasyJet flight to London to Lisbon, Dickenson wore the vest and stuffed the pockets full of miscellaneous items, from a bikini to a laptop.
Did she get strange looks in the airport security line?
"With the fishing vest – it's a jacket. What do you do with your jackets? You put them in a tray. Do you take everything out of your pockets? No, you don't. Not in a normal jacket – so why would you do it in a fishing vest? It's completely the same," says Dickenson, who points out that airport security staff aren't worried about baggage allowance, they're just making sure you're not transporting illegal items or carrying too many liquids.
At the gate, Dickenson and her fishing vest also "sailed through." On board the plane, she took off the jacket and placed it in one of the overhead bins, before picking it up and putting it on at the other end.
Tips and tricks
The fishing vest is just one of several packing hacks Dickenson's shared with her thousands of followers on TikTok and Instagram.
On another flight from London to Vienna with Wizz Air, Dickenson replaced the memory foam in her travel neck pillow with seven pairs of underwear, five pairs of socks, a pair of leggings and two t-shirts. She put the travel pillow into a security tray "without a hitch" and was waved through at the gate, "no questions asked."
Maybe the best part, says Dickenson, is the pillow was still super comfortable when she rested her head on it during the flight.
Dickenson's also tried stuffing a bra with clothes, and then wearing it over her clothes and under her coat.
Dickenson took off bra to go through security to avoid any embarrassment, stuffing it in her bag before putting it on again at the gate.
While Dickenson decided the bra idea was "ridiculous and the pay off isn't big enough," she's a big fan of her fishing vest and travel pillow hacks.
"The neck pillow was a big win, because not only have I done it – I have had loads of messages from people who have done it as well," says Dickenson, who says she's even been at an airport and overheard fellow travellers talking about how they were giving it a go.
"Ultimately, it's all about having a bit of fun with it," says Dickenson of her packing hacks. "It is kind of my goal to highlight how ridiculous it is that we have to pay so much money if we want to take any baggage away with us – that is how cheap airlines operate these days."
Securing hotel upgrades
Dickenson's also got some more conventional tips to make travel easier and more budget-friendly.
She is also a big fan of vacuum packs, for example. "You put all your clothes in, and then you push all the air out of them," she explains. "You get so much more space."
And Dickenson's a big proponent of list-making to avoid over-packing. Before she goes on a trip, Dickenson always writes down all the items she'll need, breaking down the trip day-by-day. This strategy helps her pack concisely and lightly. Rather than packing random clothes, she's got daily outfits ready to go.
And there's an added bonus.
"It means that you really do cut down on packing too many pairs of pants," says Dickenson, using the British term for underwear. "I don't know about you, but I used to pack about 20 for a week away – you do not need to do that."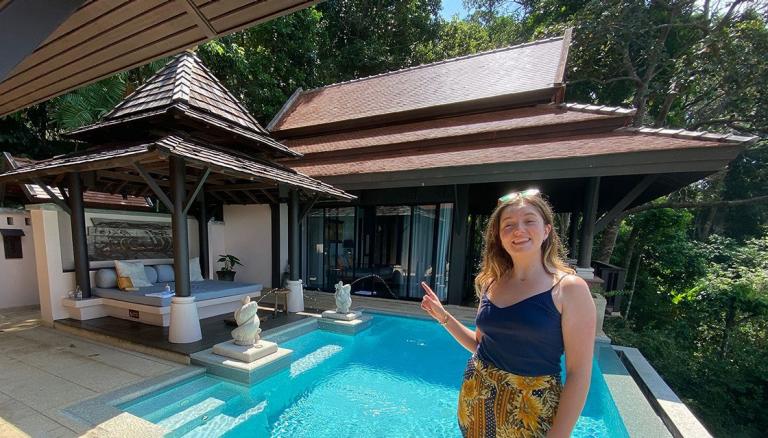 Dickenson's also become known for her hotel upgrade email template, available on her website for others to copy, paste and send.
The template is brief, polite and friendly – and has a pretty high success rate.
"I get messages – maybe two or three –  every single day from people saying, 'Oh my God, it worked. I just turned up, we are in a suite. We've got champagne. Thank you so much. I would never ever have asked if you hadn't have put the suggestion in my head,'" says Dickenson.
Dickenson's motto is when it comes to any kind of travel upgrade, it's always worth asking. After all, the worst that will happen is someone says no. For hotels specifically, Dickenson advises doing some digging beforehand and working out to whom you should address your email – that personal touch can really help.
Wonder of travel
While Dickenson enjoys making her followers laugh with her packing hacks, she's also serious about her commitment to helping people travel for less.
She's regularly frustrated at the high costs of travel, particularly for families, and the fact these costs can become a roadblock to vacations.
"People deserve to get away, to have that moment to relax, to see something new," Dickenson says. "For children growing up – I think it's a really important part of learning something new, learning about new cultures."
Dickenson hopes her tips can help travellers avoid extraneous costs and encourage them to explore the world as much as they can.
"There's that lovely thing about travel that it just reminds you that we are all just humans dotted at different points across the globe, and there's a lot more that unites us than makes us different," she says. "I know I've got super cheesy here, but truly that is one of the major massive perks that travel has, that it's able to bring people together in that way."
CNN