Andrew Edwards, who oversees van Gisbergen at Triple Eight, was on hand for the shock victory on the streets of Chicago.
Speaking to Autosport, Edwards revealed that it was a late call to make the trip with van Gisbergen, after Trackhouse Racing reached out to learn more about the star Kiwi.
"It's a bit of a surprise, the whole thing," he said. "Trackhouse kind of reached out and were asking me some questions about Shane and a little bit about how we might look at street tracks and things like that in Supercars.
"We kind of got chatting from there and then they offered to bring me over and help, in a small way, and bridge the gap between Shane and the engineers.
"And also it was just an amazing learning experience for me, just to see how they operate. It was an incredible opportunity."
Edwards has extensive experience on street circuits from his long, successful career in Supercars, something that Trackhouse tapped into during race week in Chicago.
While he wasn't directly involved in set-up decisions, and there are vast differences between how a NASCAR and a Supercar make their speed, Edwards felt he was able to contribute.
"They are quite different cars," he said. "I didn't get involved in the set-up to a large degree, it was really kind of philosophical conversations. Trackhouse did all that work.
"I guess for them it was just thought-provoking on what we do and the set-up. They hadn't done anything like this before and it's a real departure from how they set up their car normally. It's a very high downforce car but this track is very bumpy so it was a new challenge and they hadn't been to that place before.
"I can't say that I helped them, but at the same time if it gave them some confidence to try to go down a road, then I think we got a bit of that."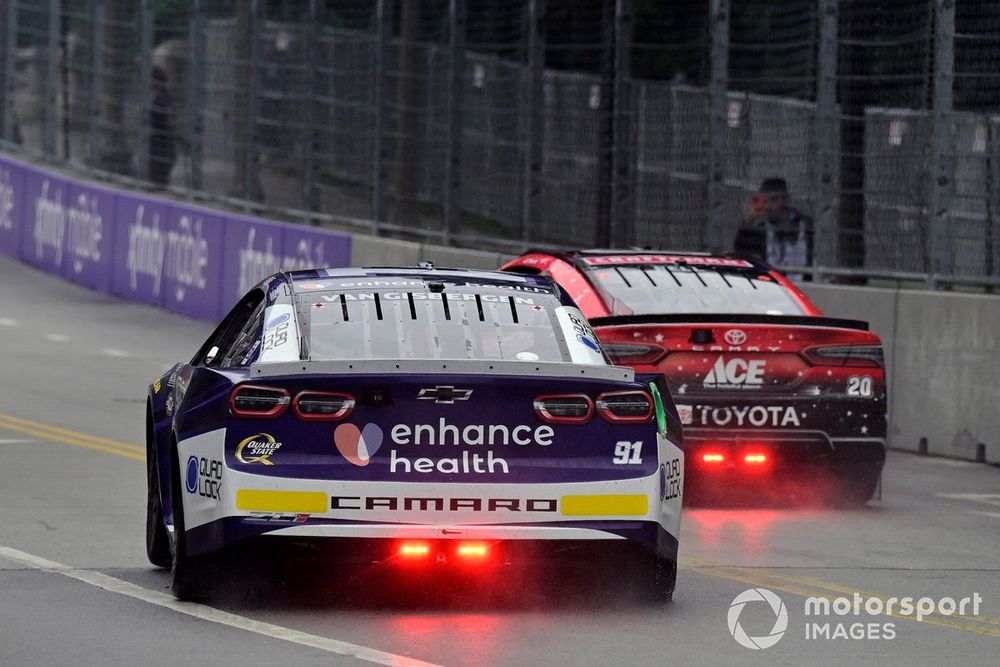 Shane van Gisbergen, Trackhouse Racing, Enhance Health Chevrolet Camaro
Photo by: Nigel Kinrade / NKP / Motorsport Images
Edwards and van Gisbergen are famous for their overcut strategies in Supercars, using the three-time champ's passing prowess to utilise fresh rubber in a second or third stint.
In that sense, it was a typical SVG victory in Chicago, as he blasted from 18th to the lead in the closing stages.
"We all know what he's like and what he's capable of, but then when you see it happen there in the moment, it's still shocking," said Edwards.
"He shouldn't have been able to do what he did. He shouldn't have been able to go there with not knowing that car and things like that and have that success.
Read Also:Van Gisbergen free to make NASCAR move in 2024 – WhincupVan Gisbergen compared to NASCAR greats after debut winElliott: Van Gisbergen will "tell all of his friends how bad we are" after NASCAR win
"I thought we were in trouble when we got put down to 18th when that unfortunate sequence of shortening the race [happened], but then once I saw he got past a few and he could pass, he just kept rolling.
"He loves to be the hunter, he loves that situation. I said to the engineers partway through that, 'we're on here' because he has got the eyes on and he was just so much faster than everyone else.
"I mean, he was seconds faster than everyone else. And he can pass, like he can do in Supercars. He's one of the only guys that can really pull that kind of strategy off."