There are people who will always consider the boombox obnoxious. Some have been tormented for hours by party noise or people on the beach who want to 'share' their music. The updated ghettoblaster concept can be a nightmare.
Those people will want to steer clear of anyone who gets their hands on a JBL Boombox 3, the latest wireless speaker to offer music wherever you are and one that frequently can produce a solid wall of sound at any given moment.
With a simple and sleek casing, and a strong sturdy steel grip, it's not a light piece of kit to carry around. While not massively hefty, it does weigh in at 6.7 kg, meaning you are doing a bit of weight-lifting from time to time as you lug it about.
Thankfully it has strong grips on the bottom to carry it on your shoulders (if you so desire to reconnect to your 1980s ghettoblaster vibe) or place it down without it rolling off – it is compact enough to be as portable as anything weighing over 6kg can muster.
The physical work is worth doing thanks to the chunky sound and a volume level that goes up louder than Spinal Tap's 11. This is a speaker that blasts music out, but doesn't distort what you're playing. It's a key proposition with most other devices sustaining long term damage to the speakers or blowing out completely if you're overzealous with the volume.
Its speakers on the side vibrate with the music's bass, giving off a cool quivering look as the Boombox 3 sits on a table. Certainly as Darude's 'Sandstorm' and various rock tracks were fired through it, it almost looked like the speaker was dancing in time to the music. The redesign inside the Boombox 3 has added a new subwoofer, meaning deeper bass is noticeable.
There is a resonance to the sound when using it inside and outside with the speaker seeming to adapt to its surroundings. Inside use gave it a more subtle presence, filling rooms with music; whereas outside it was the life of any party, loud enough to travel a distance but also rich enough to ensure quality was never lost.
However, the Boombox 3 really doesn't do anything radically differently to most other speakers on the market and at over $650 in RRP, it's more a luxury item than an essential purchase. It does what it does well, but it's not one for bells and whistles.
It's great for music or watching TV outdoors if you're so technically-minded. A rubberised plug in the back also revealed a USB port, giving more options.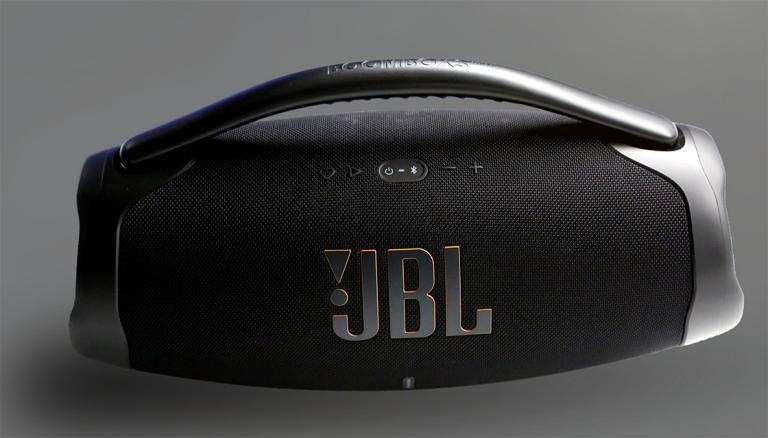 While its design is compact, its company branding on the front verges on obnoxious with the height of its JBL logo covering roughly a third of the centre of its front – minimalism is clearly not the company aim here. But elsewhere on the speaker, buttons are kept to a minimum with just five bracing the front and all of the wireless work done within the JBL One App.
That app is easy enough to use and offers pairing with music streaming services, Google Home and Apple Airplay. Pairing was seamless and never once disconnected, showing no sign of dropping out at any point during any of my testing period.
The unit apparently offers Party Boost which will allow you to pair with another JBL item, but not owning any others, I didn't test that for this review. It also professes to have a battery life of 24 hours. 
While it's not generally recommended to keep the party going for 24 hours in suburbia due to a visit from annoyed neighbours and possibly local police, it certainly didn't seem to struggle with battery life as I tested it. Only a few percent dropped off after a 12 hour period of use during Labour Weekend's glorious weather. 
That battery power is part of the speaker's main appeal, really – the option to take it anywhere and not worry about how long it will last, instead just kicking back and enjoying the sounds.
One note of caution though: the information claims the speaker is waterproof and can be immersed in water, but on closer inquisition, JBL confirmed to Newshub this more meant splash-proof – think the odd showering of rain or hose-related summer shenanigans. The company didn't recommend actually putting it in a pool or spa due to the chemicals within those.
The JBL Boombox 3 will undoubtedly serve as an enjoyable feature in whatever New Zealand's summer will bring – but whether its price will prove a sticking point for many remains to be seen. And certainly, it's cumbersome enough to take up valuable space on a roadie, but it is an ideal piece of kit to set up and leave on the deck for an afternoon of sweet sounds with the whānau or a group of mates.
Newshub was supplied with a JBL Boombox 3 for this review.